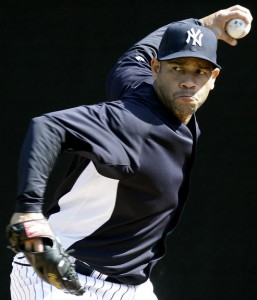 The Yankees have been searching for a quality left-handed reliever since letting Mike Stanton walk after the 2002 season, and that search led them to Pedro Feliciano last offseason. They inked the former Met to a two-year contract worth $8M in mid-December, in part because he a bonafide relief workhorse. He'd proven to be very effective against lefties and unusable against righties, making him the quintessential lefty specialist.
Feliciano, now 35, struck out six batters in his four Spring Training innings, and that was it. We never saw him again. On March 18th, we got word that he was dealing with a dead arm and the team was giving him extra rest as a precaution. Less than two weeks later the dead arm had turned into some kind of triceps problem, a problem that would cause him to open the season on the disabled list. Two days later it was being described as "soreness in a muscle behind his left shoulder," and the team shut him down for ten days.
The ten days came and went, and doctors had to push Feliciano's time table back about a week because he wasn't ready yet. On April 12th, when he finally did get on a mound to start throwing, the southpaw suffered a setback and was sent for an MRI. "He was abused," said Brian Cashman shortly thereafter, referring to Feliciano's league leading games pitched totals with the Mets from 2008-2010. The MRI revealed a torn shoulder capsule, the same injury Chien-Ming Wang suffered in mid-2009, but surgery was put off after Dr. James Andrews advised a conservative treatment program that consisted of six-week shoulder strengthening routine. Feliciano was also undergoing platelet-rich plasma treatment as well.
Six weeks after Dr. Andrews' recommendation, he was ready to start a throwing program on June 1st. Feliciano made 30 soft tosses on that date, and he continued building up to the point where he was ready to being throwing to hitters in early-August. A few weeks later, on August 25th, he made his first rehab appearance, striking out one in one perfect inning for the Rookie Level GCL Yankees. He never made another one. Exactly two weeks after the rehab outing, Feliciano underwent surgery to repair damage to his rotator cuff, a serious procedure that will likely keep him on the shelf for all of 2012.
Between Feliciano, Damaso Marte, and Kei Igawa, the Yankees had three $4M-a-year left-handers on their payroll that were completely unusable in 2011. The reason the Yankees went out and signed Feliciano in the first place was because Marte was recovering from his own shoulder surgery, so they ended up right back where they started, just with less money in their pocket. Cashman's comments about Feliciano being abused came off as whiny more than anything, because anyone with internet access could go to Baseball-Reference.com and look up how much the guy had pitched the last few years.
The Yankees knew the risk involved with signing an older, heavily worked relief pitcher to a multi-year contract, but they took the chance anyway and got burned again. Early reports from this offseason indicate that the team is again looking to add a reliable left-handed reliever to their bullpen, this time to replace the injured Feliciano who was replacing the injured Marte who was replacing the awful Billy Traber. It's highly unlikely that Feliciano will ever throw a pitch in pinstripes, rendering him a completely sunk cost.