Over the next few weeks, we're going to look back at what went right, what went wrong, and what went as expected during the 2011 campaign.

The 2010 season was something of a breakout for Phil Hughes. The right-hander stayed healthy all year and performed just a touch better than league average in terms of ERA (4.19), FIP (4.25), and xFIP (4.13) across 176.1 IP, and the Yankees counted on him to solidify a patchwork rotation coming out of Spring Training a few months ago. The problem was that his velocity had vanished in March, and it never did pick up as the team expected it would after a few starts.
Miguel Cabrera and the rest of the Tigers smacked Hughes around for five runs in four innings in his first start of the season, in what would eventually become the Yankees first loss of 2011. The Red Sox battered him for six runs in two innings five days later, and through two starts, Phil had generated just three swings and misses out of 137 pitches. He had walked four and struck out just one, and the fastball was sitting in the danger zone of 87-88 mph.
The Yankees finally pulled the plug after Hughes' third start, in which the Orioles hung five runs on him in 4.1 IP. They put him on the disabled list with what was termed a "dead arm" after originally planning to send him to the minors, and they starting pumping him with anti-inflammatories. "After 30 pitches, there was nothing there," said Hughes. "I felt like a reliever who had thrown four straight days. Something had to be done. My velocity's just not there. My arm feels dead. This will able me to build arm strength and get this right."
The plan was to put Hughes on a throwing program after a few days of rest, and things went well at first. He was ready to start a minor league rehab assignment about two weeks after his start against the Orioles, but the team cut short a bullpen session after just a dozen pitches and called it a "setback." Hughes was sent for an MRI the next day, and after some concerns about low-level thoracic outlet syndrome, it was announced that he'd miss another six-to-eight weeks with shoulder inflammation that was bad enough to require a cortisone shot. While all that was going on, a report came out that Hughes showed up to camp out of shape, leading to speculation about how it may have contributed to his arm troubles.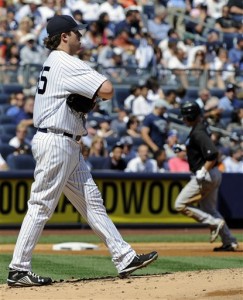 More rest and more rehab followed. The Yankees put their right-hander on a Spring Training-esque throwing program, which stretched him out over an extended period of time. A simulated inning soon followed, and then a few more after that. After throwing 49 pitches in one of those simulated games, Hughes was deemed ready for a minor league rehab assignment. He made a total of three rehab starts, striking out eight and holding his velocity deep into the game the final time out. Ready to return to the rotation, the team made the decision to demote Ivan Nova to Triple-A in favor of Hughes in early-July.
The first start back was okay at best; Phil allowed two runs in five innings against the Indians, striking out two and getting just a pair of swings and misses out of 87 pitches. He looked better in his next start (two runs in six innings against the Jays) eleven days later (with the All-Star break in between), then got completely shellacked by the punchless Athletics next time out (seven runs in 4.1 IP). Hughes' velocity had returned to the 91-92 range, and he rattled off four straight quality starts after that (five runs in 25.2 IP), but Oakland again hit him around in late-August (six runs in 2.2 IP) and the Red Sox did the same a few days later (six runs in 5.2 IP).
Hughes started September with a pair of strong starts against the Orioles and Mariners (three runs in 12 IP), but back inflammation flared up and kept him out of action for two weeks (rain contributed to that a bit as well). The Yankees brought him back strictly as a reliever and kept him in that role through the postseason. In four relief outings at the end of September and in the ALDS, Phil did not allow a run in five innings (three hits, three walks, six strikeouts). As expected, his velocity jumped into the 94-95 range in relief, and he generated eleven swings and misses with 90 pitches.
All told, Hughes pitched to 5.79 ERA with a 4.58 FIP in 74.2 IP in 2011. Even if you disregard his first three starts, when he clearly wasn't right, he still had a 4.48 ERA with a ~3.90 ERA in 64.1 post-DL innings. His strikeout and swing and miss rates dipped to 5.67 K/9 and 6.2%, respectively, well-below-average and down considerably from 2010. Was the decline the result of poor conditioning? Poor mechanics? The 80.1 IP jump from 2009 to 2010? All of the above? Something else all together? We all have our theories, but the only thing we know for sure is that Hughes heads into the 2012 season as a giant question mark.