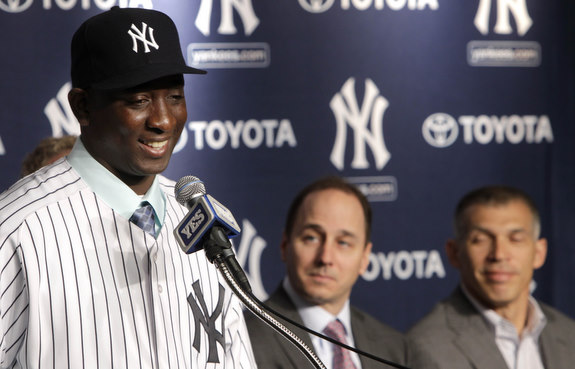 Having a budget surplus is a good thing, except when some of the higher-ups have an itchy trigger finger. After losing out on Cliff Lee and pretty much all significant free agents last winter, the Yankees took an unnecessary plunge into the open market. On January 13th, they agreed to sign former Rays closer Rafael Soriano to a three-year contract worth $35M (surrendering their first round pick to Tampa in the process), and as an added bonus, he was given the ability to opt-out of the contract after each of the first two seasons. The deal was ownership-driven, specifically by Randy Levine.
Soriano was coming off two straight dominant seasons (2.66 FIP in 138 IP), but he had never stayed healthy for three consecutive years in his career. The plan was to make him Mariano Rivera's well-paid setup man (the contract is the sixth largest ever given to a reliever in terms of average annual value), forcing David Robertson and Joba Chamberlain into the sixth and seventh innings, moves that were somehow going to make the rotation stronger. The bullpen had been improved, but at an unfavorable cost.
The new setup guy went through Spring Training without a hitch, which is good news. Soriano opened the season with a 1-2-3 inning against the Tigers on Opening Day, but little did we know that it would be nearly four month before he had another clean inning. He pitched again in the team's fourth game of the season, shrugging off concerns about a lack of velocity. The entered the game with a four-run lead the next day, but allowed the Twins to tie it thanks to three walks and a hit in two-thirds of an inning. Soriano did not speak to reporters after the game, compounding the problem. After hearing from team officials and agent Scott Boras, he apologized the next day.
Soriano went through April by putting men on base and occasionally allowing runs, finishing the month with more walks (eight) than strikeouts (seven) and a 7.15 ERA in 11.1 IP. After allowing just a dozen earned runs for the Rays in 2010, he had already allowed nine in his first month as a Yankee. He also missed a few games with a sore back. Soriano opened May with three straight scoreless outings, but ten days into the month he had to go for a precautionary MRI on his balky right elbow.
The MRI showed nothing more than inflammation, and two days later he was back on the mound. After walking two in a scoreless inning against the Red Sox, Soriano was again shelved due to the elbow, and this time he was expected to miss a week. A bullpen session had to be cut short a few days later, forcing the Yankees to put their setup guy on the DL on May 17th. Another throwing session had to be cut short a week later, and this time it prompted a visit to Dr. James Andrews. Andrews diagnosed the injury as an inflamed elbow ligament, the same one he'd replaced in Soriano's elbow via Tommy John surgery in 2004. He was expected to miss at least six weeks.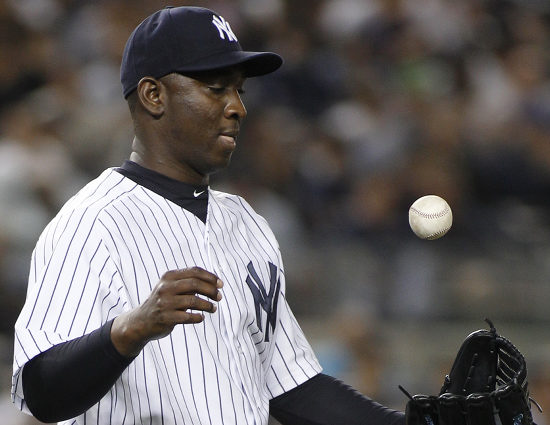 Soriano's rehab went fine, right on schedule, and he faced hitters for the first time on July 13th. He started a minor league rehab assignment on July 18th, then was officially activated off the disabled list on July 29th. During his absence, a span of 67 team games, Joba went down with an elbow injury of his own while Robertson emerged as a dominant, All-Star caliber setup man, the kind of pitcher the Yankees thought they were getting with Soriano.
After a few appearances to get back into the swing of things, Soriano took over seventh inning duties while Robertson continued to pitch the eighth. He retired the first 15 men he faced after coming off the DL, then finished the season on a nice little roll with just two notable hiccups: an extra-innings three run homer to Coco Crisp on August 24th, and another three-run homer to Matt Joyce to turn a one-run lead into a two-run deficit on September 27th, his final appearance of the regular season. He allowed just one baserunner in 4.1 IP during the ALDS, but unfortunately that one baserunner was a go-ahead solo homer to Delmon Young in the seventh inning of Game Three.
All told, Soriano threw 39.1 IP during his first season as a Yankee, pitching to a 4.12 ERA and a 3.97 FIP. For comparison's sake, scrap heap pick-up Cory Wade threw 39.2 IP with a 2.04 ERA and a 3.76 FIP for the Yankees in 2011. Soriano's strikeout rate (8.24 K/9) was identical to what he did in Tampa last season, but his walk (4.12 BB/9) and homerun (0.92 HR/9) rates were considerably worse, nearly double his 2010 rates. His calling card of being unable to stay healthy for three consecutive season remained intact as well.
Soriano will not be exercising his opt-out clause before tonight's midnight deadline, meaning he will return to the Yankees bullpen in 2012. He figures to again handle the seventh inning since Robertson is entrenched in the eighth, making him an $11M middle reliever. That's $11M the Yankees could have put towards starting pitching this winter. The bullpen is better with him, there's no doubt about it, but staying on the field has been a struggle for Soriano throughout his career, and 2011 was no different.