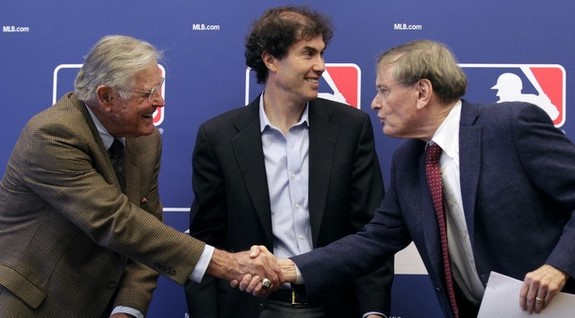 Baseball officially announced its new Collective Bargaining Agreement this afternoon, a five-year pact between the owners and players' association. The deal ensures at least 21 consecutive years of labor peace, which is great for the sport. I'm not so sure we can say the same about the rest of the deal though. Many of the changes will hurt baseball, especially in the long-term.
We've already recapped changes to the luxury tax, Type-A and B free agents, and the elimination of the Elias rankings, but that is just the tip of the iceberg. All of the CBA news below comes courtesy of the best reporters in all of sports, our beloved baseball writers. Props specifically go out to Jeff Passan, Buster Olney, Bill Shaikin, Ken Rosenthal, and Danny Knobler. This is not a full recap, but Maury Brown has the entire CBA available. Let's start with the most significant changes…
Draft Spending Limitations
There is no hard slotting, but teams are given a "draft pool" by MLB that they aren't supposed to exceed. Teams that do exceed their pool by 5% will be taxed at 75%. Spending in excess of 5-10% will result in a 75% tax and a loss of the next year's first round pick. Spending in excess of 10-15% results in a 100% tax and and loss of first and second round picks. Spending in excess of 15% results in a 100% tax and the loss of two first round picks. That's harsh.
Something called the "Competitive Balance Lottery" gives extra picks to the small-market and low-revenue clubs. Six draft picks immediately after the first round will be given to the ten teams with the ten lowest revenues via a lottery system. A team's odds of winning the lottery will be based on its winning percentage the prior season. There will be another lottery with six additional picks after the second round for the clubs that miss out on the first set of picks. These Competitive Balance Lottery picks can be traded, but other picks can not.
If a player drafted in the tenth round or later signs for $100k or more, the extra money counts against the team's draft pool. I'm not entirely sure what that means, but I think it means you can sign a player drafted in the tenth round or later for $100k and it will not count against your pool. Don't quote me on that.
The draft signing deadline has been moved up from August 15th to sometime between July 12-18th, depending on the All-Star Game. The college coaches will appreciate this.
Drafted players can only sign minor league contracts now, and the top 200 prospects will be subject to mandatory drug testing.
International Spending Limitations
Each team will be allowed to spend $2.9M on amateur free agents this year, or a hundred grand less than the Yankees gave Gary Sanchez in 2009. Starting next winter, the worst teams will be allowed to spend ~$5M while the best teams get to spend ~$1.8M.
Starting in 2013-2014, teams will be able to trade their international spending cap space, thought clubs will only be able to acquire an additional 50% of their cap. So if the Yankees are limited to a $3M cap, they can only trade for an additional $1.5M.
Players under 23 years old and with less than years of professional baseball experience will be considered amateurs and count against the spending cap. That means guys like Yoenis Cespedes and Japanese veterans will be treated as a true free agents. Japanese players run through the posting system will not count against the cap.
Players must register with MLB's scouting bureau in order to be eligible to sign. That should cut down on the number of age and identity fraud cases. The top 100 prospects will be subject to drug testing.
A worldwide baseball draft is a "significant possibility" by 2014, and there are incentives in place for both sides to negotiate terms in the future.
Long story short, the MLBPA sold out its future members for the sake of its current members. The draft and international spending limitations are severe and will drive young talent away from the game, and you'll see legitimate two-sport guys like Zach Lee and Bubba Starling be pushed to college by the spending restrictions. Teams also have little incentive to run a baseball academy in Latin America now. We'll see the real impact of these changes in five or ten years, when there's a sudden lack of young talent and barely enough real athletes to play the middle infield. Anyway, here is the lest of the CBA news…
Draft Compensation Changes
The following players are Type-A free agents but will be treated as Type-B free agents for the remainder of the offseason: Matt Capps, Francisco Cordero, Octavio Dotel, Ramon Hernandez, and Darren Oliver. A team will not have to give up a draft pick to sign them, and their old team will gain just one supplemental first rounder.
The following players are Type-A free agents but will not be treated as "modified" Type-A free agents: Heath Bell, Michael Cuddyer, Kelly Johnson, Ryan Madson, Josh Willingham, and Francisco Rodriguez. A team will not lose a pick to sign them, however their old club will still receive two picks. One will be a first round one spot after the team that signs them, the second a supplemental first rounder.
These changes can all be seen on our 2012 Draft Order page.
Players must still be offered arbitration if their former club wants to receive draft pick compensation. The deadline to offer arbitration is tomorrow, by the way.
Blood Testing For HGH
Players will be tested next Spring Training to determine their energy levels, and those test results will be discarded. Tests will be taken on non-gamedays unless the player volunteers to do it the day of a game. They're essentially going to test the test, just to see how the players respond physically after giving blood.
Once the two sides see how the players respond, they will then determine how and when to proceed with in-season testing. Offseason testing will begin next winter, and the tests will not be random. There has to be reasonable cause.
Instant Replay
Replay will be expanding to include fair-or-foul plays as well as "trapped" ball plays. MLB and the umpires' union must still discuss the final details. Hooray for this.
There will also be an "improved process for challenging official scorer decisions." So now David Ortiz can complain about his RBI total without interrupting his manager's press conference.
Equipment
Players will no longer be allowed to use those low-density maple bats that shatter and turn into dangerous sharp, flying objects.
The Great Gazoo helmet, which Frankie Cervelli wears following all his concussions, will be mandatory by 2013. The new version will be less bulky and hilarious looking.
Salaries
The minimum salary will rise from $414k this past season to $480k next season, and it will climb to $500k by 2014.
The top 22% of players (in terms of service time) with fewer than three years of MLB service will be considered Super Twos. Those folks are arbitration-eligible four times rather than three. It had been the top 17% previously.
New Policies & Programs
A new tobacco policy will be instituted, preventing tobacco products from being visible during interviews, interactions with fans, etc. Uniformed personnel can still use chewing tobacco, but the can can't be visible and a wad of chew in a player's cheek will draw a slap on the wrist from the union.
A "program of mandatory evaluation" is in place for players that commit alcohol-related offenses, including DUIs.
There will be some kind of "social media policy," basically taking all the fun out of MLB players on Twitter.
Something called "market disqualification" says the top 15 markets will not be able to receive revenue sharing money by 2016, the final year of this deal.
I can't believe they actually had to write this into the CBA, but there is now a policy in place that protects union members from discrimination stemming from their sexual orientation.
Miscellaneous
Participation in the All-Star Game is mandatory unless the player is injured or otherwise excused by the commissioner.
Rosters will expand to 26 players for "certain regular or split doubleheaders." I kinda like that.
The extra wildcard team and expanded playoff setup will be instituted immediately, so there will be two wildcard clubs per league next season. It will in fact be a one-game playoff.
The owners get rather drastic spending restrictions on amateur players as well as expanded playoffs while the players get an increased minimum salary, more Super Twos, and better free agent compensation rules. Everyone wins … as long as you're an owner or a union member.