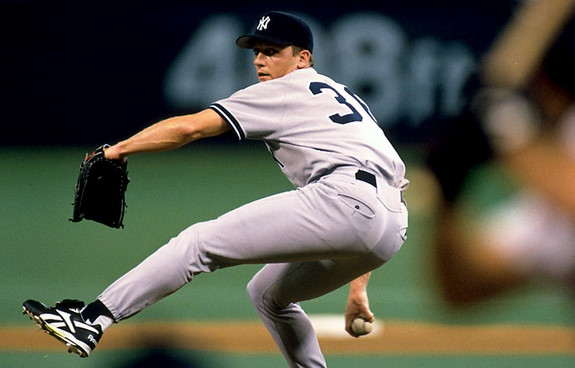 Kurt asks: I was just curious about how David Cone came to the Yankees, and if you considered him underrated?
Cone is by far my most favorite analyst on YES, and he was also one of my most favorite players on the team during his 5+ seasons in pinstripes. He won the Cy Young Award with the Royals in 1994 (16-5, 2.94), but they traded him to the Blue Jays shortly after the strike ended for Chris Stynes and two minor leagues. After 17 very good starts for Toronto (9-6, 3.38), the fifth place Jays sent him to the Yankees just before the 1995 trade deadline for Marty Janzen and a pair of minor leaguers (Jason Jarvis and Mike Gordon). Intra-division trades weren't as frowned upon back then.
Cone stepped right into a Yankees' rotation that included Jack McDowell, Sterling Hitchock, Andy Pettitte, and Scott Kamieniecki. Shoulder problems sent Opening Day starter Jimmy Key to the DL after just five starts, so that's essentially who Cone replaced. The fill-in starter whose job he took after the trade? Some skinny kid from Panama named Mariano Rivera, who had a 5.40 ERA in 40 IP across eight starts before giving way to Cone.
The Yankees were 41-42 and in third place on the day of the trade, but Cone helped them to a 38-23 finish by going 9-2 with a 3.82 ERA in his 13 starts. Cone, 32 at the time, pitched okay against the Mariners in the ALDS (eight runs in 15.2 IP), though he infamously walked Doug Strange with the bases loaded in the bottom of the eighth of Game Five to force in the tying run. That game/series was the first time I ever felt true heartbreak as a baseball fan. It was brutal.
Cone became a free agent after the season, but the Yankees eventually re-signed him to a three-year deal worth $18M, the going rate for ace-caliber pitchers back then. He spent most of the 1996 season on the DL due to an aneurysm in his arm, but he threw seven no-hit innings in his first game back. Cone finished the season at 7-2, 2.88 in just eleven starts, then got rocked in the ALDS (6 IP, 6 R) by the Rangers before pitching well in the ALCS (6 IP, 2 R) against the Orioles and in the World Series (6 IP, 1 R) against the Braves. Everyone remembers the Andy Pettitte-John Smoltz matchup in Game Five, but Cone outdueled Tom Glavine in Game Three to keep his team from falling behind in the series three games to none.
During the final two years of his deal, Cone went a combined 32-13 with a 3.20 ERA, helping the Yankees to another World Series title with a 20-win season in 1998. The Yankees re-signed him to a two-year deal worth $20M or so after the 1998 season, and although he pitched well in 1999 (12-9, 3.44 ERA), throwing a perfect game against the Expos in July, he turned in one of the worst pitched seasons in Yankees' history in 2000 (4-14, 6.91 ERA). During his 5+ years in the Bronx, Cone went 64-40 with a 3.90 ERA, though it was 60-26 with a 3.31 ERA before that ugly 2000 season. He helped them to six playoff appearances and three World Championships, twice going to the All-Star Game (1997 and 1999) and thrice finishing in the top six of the AL Cy Young voting (1995, 1998, and 1999).
I don't think Cone was underrated during his time with the Yankees, but I think he was easy to underappreciate because he always seemed to pitch well and deep into games. Does that make sense? His high-end production was easy to take for granted after a while, which is sorta like what's happening with CC Sabathia. Cone was a key part of the most recent Yankees dynasty, and those guys tend to live forever in our memories.