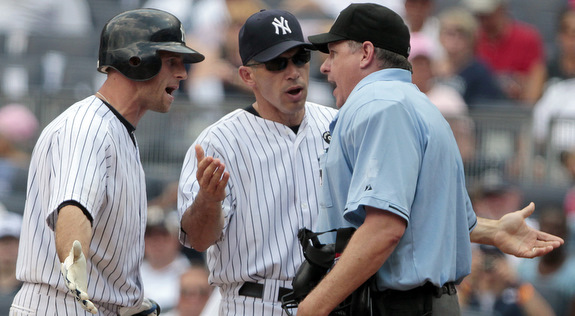 Roy asks: Given the emphasis put on pitchers' pitch counts in today's games, what do you think about the idea of a player who bats below the Mendoza line, but has somehow mastered the skill of fouling off pitches and consistently puts up at-bats that take up 10+ pitches to a point where he could waste anywhere from a quarter to a third of the starting pitcher's total pitches?
Two things jumped to mind when I first read this question. One, if the player is that bad with the bat and draws his offensive value from working the count, then he better be fast and awesome on defense. He'll draw walks just by working the count so much, so he needs to be able to steal bases efficiently to maximize his value. The extra-bases won't come from swinging the bat. The defensive part is self-explanatory, you can't have a guy providing that little offense and be even average on defense. He's got to be a stellar gloveman.
Secondly, here is something Joel Sherman wrote last month…
Yankees hitting coach Kevin Long mentioned to me several times this year how good the arms were that the Yankees were seeing regularly in the middle innings. It messed a bit with the Yankees philosophy of work the starter hard to get to a weaker middle reliever. Long talked about a ton of arms throwing in the mid-90s now throughout bullpens with a strong secondary pitch that a lineup has to adjust to on one look. The underbelly did not feel as mushy.
Bullpens are getting more and more specialized these days, and more importantly, managers have gotten better at deploying them. Specialists are starting to be used more properly, which has added a whole new group of players to the talent pool because have begun to appreciate what guys excel at rather than dwell on their faults. Middle relievers are still the weak spot of pretty much any club's roster, but they're just not so weak anymore.
This player would basically be Brett Gardner to the extreme. Phenomenal defense, baserunning, and plate discipline, but zero ability to hit the ball for authority. The one thing we have to remember is that players don't work the count to draw walks; walks are a byproduct of patience. They work the count to get a pitch to hit, and this theoretical player won't be able to do much of that. It's a radical idea, but I'm not sure it would work. I'm almost certain no team would ever try it though.