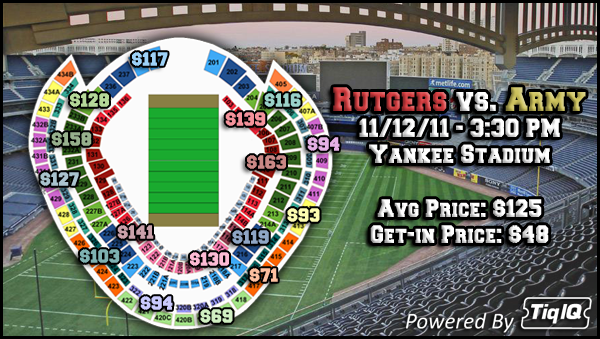 In case you haven't heard, Yankee Stadium will be hosting its third college football game since opening next weekend, when Army takes on Rutgers next Saturday (the 12th). Thanks to our friends at TiqIQ, we can help get you into the game at a 30% discount. Just click the image above or this link. I'm sure we've got some Scarlet Knights out there in our readership, so get out there and support your team while giving the Yankees some more of your hard-earned cash. Seriously though, I heard the previous two football games were absolutely amazing.
Anyway, here is your open thread for the night. The 2011 Taiwan All-Star Series will resume tomorrow, so you're baseball-less tonight. The Devils are the only local hockey team in action, but I'm sure you can find another way to spend the evening. You all know how this works, so have at it.
Discussion Question: Keeping it semi-realistic, what is your dream rotation for 2012?