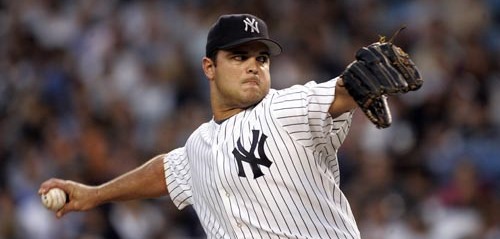 In many ways, Jaret Wright is the poster boy the Yankees' starting pitching failures over the last decade or so. He was still pretty young (29) when he signed that three-year, $21MM contract, but he had major injury concerns, walked a few too many, and had the proverbial "one good year" under his belt. The craziest part of the contract is that he failed his physical, but the Yankees sent him to the doctors a second time and signed him anyway.
Wright managed to get hurt almost instantly in 2005. He made four awful starts in April (9.15 ERA) after opening the season as the team's fourth starter, then spent the next four months on the shelf with shoulder problems. In nine starts to end the season after coming off the DL, Wright walked 23 batters and struck out just 21 in 44 IP (4.70 ERA). He started the next season as the fifth starter and managed to stay on the field just about all season, throwing 140.1 IP with a 4.49 ERA. Wright didn't make it out of the third inning in Game Four of the ALDS against the Tigers, the game that ended the Yankees season.
Brian Cashman cut ties with Wright shortly thereafter, trading him to the Orioles for Chris Britton in a move that took place five years ago today. The Yankees ended up paying the right-hander $18M for 204 IP of 4.99 ERA and 4.60 FIP ball. It's pretty well known that the Wright signing was a George Steinbrenner move, a move The Boss felt would help lure pitching coach Leo Mazzone to the Bronx after he'd gotten close to Wright in Atlanta. Mazzone never did come to New York.
* * *
Here is tonight's open thread. There's plenty of college football on for you to enjoy, plus the Devils are playing as well. Talk about anything you like here, it's all fair game.