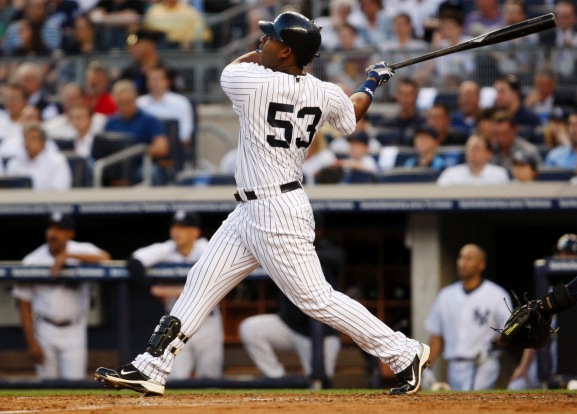 With the light at the end of Jason Giambi's contract tunnel starting to draw closer, the Yankees made a move to bring in someone they hoped could be their first baseman of the future. During the 2006-2007 offseason, they signed Cuban defector Juan Miranda to a four-year Major League contract worth $4MM, hoping he'd be able to step in for Giambi when his contract expired after the 2008 season.
Miranda, reportedly 23 at the time, mashed at two minor league levels in 2007 and was anchoring the Triple-A Scranton lineup by Opening Day 2008. He hit .287/.384/.449 with a dozen homers that season, then got his first taste of the big leagues (14 plate appearances) that September. Miranda's shot at becoming the full-time first baseman disappeared when the Yankees signed Mark Teixeira the following offseason, a move that sentenced Miranda to two more years in Triple-A with intermittent call-ups. He hit a respectable .253/.330/.458 with four homers in 94 plate appearances spread across three seasons in pinstripes, with his most memorable moments being this walk-off single against Kyle Farnsworth, this moonshot against the Rays, and this walk-off walk against the Red Sox.
One year ago today, the Yankees traded the out-of-options Miranda to the Diamondbacks for Single-A pitching prospect Scottie Allen. Allen was a total disaster in 2011 (7.52 ERA in 93.1 IP), but Miranda finally got his first chance at extended playing time in the bigs. He started out very well, hitting .270/.387/.539 through Arizona's first 51 games, but he stopped hitting after that. Miranda finished the season with a .213/.315/.402 batting line in 202 plate appearances, and was taken off the 40-man roster in June. He remains in the D'Backs' system.
* * *
Here is tonight's open thread. None of local hockey teams are in action, so there's not a whole lot going on in the New York sports scene. You can talk about anything you like here though, have at it.