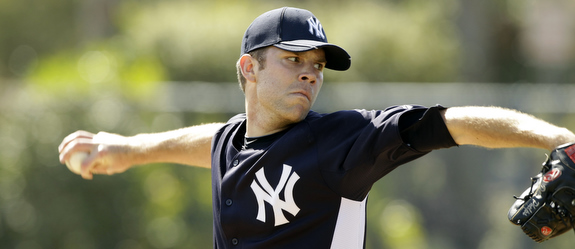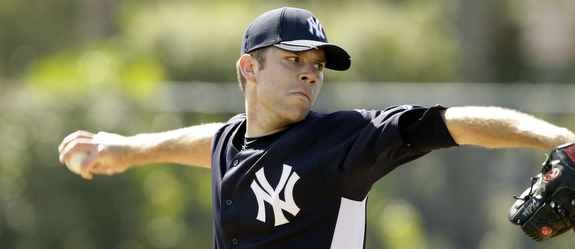 It snuck up on me a bit this year, but tomorrow is the deadline for teams to set their 40-man roster for this year's Rule 5 Draft. The deadline is usually sometime in the afternoon, 4-5pm ET, but that's not terribly important. Anyone left unprotected in the Rule 5 Draft can be selected by another team, and if that player manages to stick on his new team's big league roster all season in 2012, they officially become that team's property. Not a ton of players will stick, but there's always one or two a year.
Generally speaking, high school players drafted in 2007 (or earlier) and college players drafted in 2008 (or earlier) are eligible for the Rule 5 Draft this year. It's always tough to figure out who is eligible among the international signees since we don't really know exactly when they signed, but I believe it's anyone that signed in 2006 (again, or earlier) this year. The Yankees got a jump on things by calling up both Austin Romine and George Kontos in September, both of whom would have been eligible had they not been added to the 40-man roster.
The Yankees currently have six open spots on their 40-man roster, but that doesn't mean they'll use all six to protect prospects. Some of those spots will be used for a new starting pitcher or some bench players or another reliever, players that will contribute to the Major League team in 2012. The only two players that will definitely be added to the 40-man by tomorrow are D.J. Mitchell and David Phelps, two starters with a healthy amount of Triple-A innings under their belt. Guys like that are Rule 5 Draft gold, they wouldn't last more than the first five picks.
The rest of the crop is pretty sketchy. There's David Adams (can't stay healthy), Bradley Suttle (hasn't done anything worthy of being added), and Dan Brewer (hurt last year, was the Triple-A fourth outfielder on Opening Day). I suspect all three will be left unprotected, it's hard to see any of them sticking on a 25-man roster all year in 2012. Pat Venditte will be an interesting case, he's got the results and the ambidextrous thing gets him noticed, but there are serious questions about how his very fringy stuff will translate to the show. If the Yankees don't protect him, which I don't think they will, then some team will almost assuredly grab him just to see what he's got in Spring Training. The novelty is too great to pass up.
Among international free agent signees, I do believe that Zoilo Almonte is eligible for the Rule 5 Draft this winter, and I do think the Yankees will add him to the 40-man. The Greg Golson/Justin Maxwell/Chris Dickerson trio is out-of-options, and there's a non-zero chance the Yankees could lose all three before the end of Spring Training. If that happens, the outfield depth is suddenly Colin Curtis and Melky Mesa. Not good. Almonte, a switch-hitting corner outfielder, had a fine season split between High-A and Double-A this year (.276/.345/.459 with 18 steals and 15 homers).
That's three players (Mitchell, Phelps, Almonte) I expect to be added to the 40-man roster before tomorrow's deadline, thought there's always the possibility of a surprise or two, like Reegie Corona a few years ago. What the hell was that about? Anyway, I don't see any locks to be selected other than Venditte, there are no Lance Pendleton/middle relief types worth a Spring Training look.