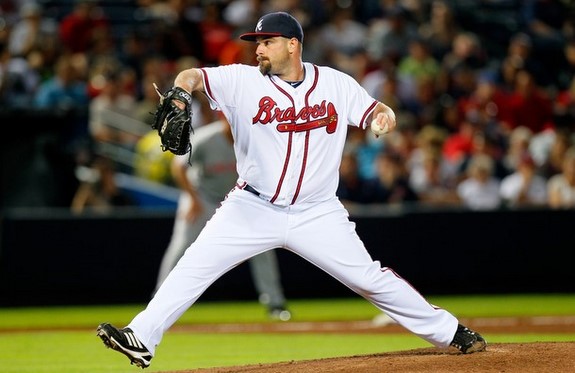 As always, one of the Yankees' goals for the offseason is to secure a reliable left-handed reliever to partner with Boone Logan. Whether or not they actually need a second lefty for the bullpen is up for debate, but they've made it pretty clear that finding a second southpaw is important to them.
Other than the fact that he's left-handed and a free agent, there's really nothing that makes George Sherrill stand out from the crowd. Yeah, he does have a bit of an interesting back story, playing for four different independent league teams before making his big league debut as a 26-year-old for the Mariners in 2003. He was also part of the five-player package the Orioles received in exchange for Erik Bedard, and has since moved on to the Dodgers and Braves. He is left-handed and breathing, so let's break down his qualifications…
The Pros
Simply put, Sherrill annihilates left-handed batters. He held them to a .256/.275/.333 batting line with 32 strikeouts and just one walk in 81 plate appearances in 2011, and over the last three seasons it's a .192/.246/.258 line with 80 strikeouts and 17 walks in 252 plate appearances. He just crushes same-side hitters.
He has a fairly generic two-pitch repertoire, throwing a mid-to-high-80's fastball and a low-to-mid–70's slider. You really don't have to worry about his losing his stuff or anything like that, there's not much to lose. Left-handed batters have swung-and-missed at the slider nearly 20% of the time since the start of 2009 (17.6%, to be exact).
Sherrill is no stranger to the AL East, having spent a year-and-a-half closing for the Orioles in 2008 and 2009. He won't require any kind of draft pick compensation to sign, and after completing a one-year deal worth $1.2M with the Braves, he's unlikely to get a multi-year contract or anything more than a modest raise this offseason.
The Cons
In typical lefty specialist fashion, Sherrill is close to unusable against right-handed batters. He held them to a .236/.358/.364 batting line in 68 plate appearances in 2011, but that includes just six strikeouts and ten unintentional walks. Over the last three years, righties have hit .288/.373/.474 against him with 44 strikeouts and 43 walks (nine intentional) in 359 plate appearances.
Sherrill is a fly ball pitcher, even against lefties. His career ground ball rate is just 36.1%, and it's just north of 40% against left-handed batters over the last three seasons. It's not a surprise that he's given up one homer for every 12 innings pitched as a big leaguer (0.75 HR/9).
Sherrill has been on the disabled list in three of the last five years. He missed basically all of September with elbow inflammation this year, lost two weeks due to back tightness last year, and was sidelined for a month with shoulder inflammation in 2008.
He wears his hat with a flat brim, and it looks pretty stupid. Nicknames include "The Brim Reaper" and "Flat Breezy" according to Wikipedia.
I loathe the concept of lefty specialists, but the Yankees obviously place a pretty high value on them judging by all the money they've spent on Pedro Feliciano and Damaso Marte in recent years. Dominant lefty specialists can absolutely be valuable pieces of a bullpen, but it's the guys that are no better than average that really defeat the point and drive me nuts. Those guys are on the roster only because of the hand they throw with, not because they have a chance to be successful. I hate that.
Anyway, Sherrill is one of those lefty specialists with a track record of shutting down lefties, something he's been doing basically since he broke into the league with the Mariners. That doesn't guarantee future success though, something the Yankees have learned the hard way the last few seasons. Relievers really are a roll of the dice, especially specialists who live their lives one small sample size to the next. I don't necessarily endorse a Sherrill signing, but I'd much rather see the Yankees take a shot with him on a one-year deal than someone else on a multiple year pact.