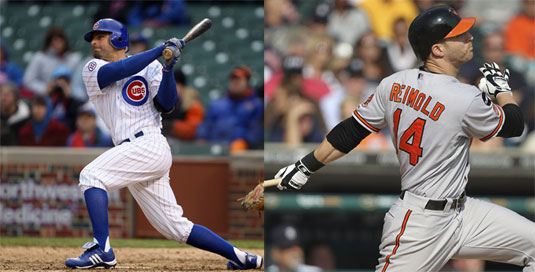 While many have given Andruw Jones his proper due for a terrific 2011 season off the bench, a closer review of his numbers made me wonder just how good his year was in a historical context. Granted, the bar for past Yankee bench players' performances is a low one, but a look at every player who has played for the Yankees since 2002 shows that Jones — with a .371 wOBA and 1.4 fWAR — was probably the best non-full-time player on a Yankee roster of the past decade.
Jones of course was brought in to fill the Marcus Thames lefty-masher role, and rather thoroughly obliterated expectations. Unlike Thames, he unfortunately didn't also have a surprisingly strong campaign against same-side pitchers (only a .316 wOBA vs. righties), but he of course torched lefties (.400 wOBA) while — again, unlike Thames — actually contributing on defense.
Indications are that Brian Cashman is interested in a return engagement with Jones, and while on the surface that seems like a strong move for the 2012 bench, it's also probably a bit of a reach to expect that Jones has another .371 wOBA year in his bat going into his age 35 season.
Given the team's relative struggles against northpaws this past season, it may might make some sense for the Yankees to buck orthodoxy and look into signing a right-handed hitting reserve who can actually hit right-handed pitching. I realize that no team in MLB is likely to actually specifically target a bench player with a reverse platoon split given everyone's obsessions with matchups, but I don't see why we have to limit ourselves to right-handers who can only hit lefties. The Yankees already destroy left-handed pitching as it is.
Reviewing the list of potentially available righties who fared well against RHP in 2011 yields two interesting names: Reed Johnson (.359 wOBA vs. RHP in 157 PAs), and Nolan Reimold (.360 wOBA vs. RHP in 207 PAs). Personal favorite Josh Willingham also fits the bill, though it seems incredibly unlikely that he won't get a starting gig somewhere.
If it seems like the Yanks have been looking at Johnson forever, it's because they pretty much have — back in the 2009-2010 offseason, there was a fair amount of speculation about the Yankees possibly looking at Johnson as the right-handed component of a left field platoon. Remember, this was before Brett Gardner established himself as a capable everyday player. Johnson wound up signing a one-year, $800,000 contract ($250k in incentives) with the Dodgers and had a terrible year, putting up a .287 wOBA over 215 PAs. He was abysmal against righties (.235 wOBA) and serviceable against lefties (.342). Johnson then signed a one-year, $900,000 minor-league contract with the Cubs last offseason, and wound up turning in a .354 wOBA in 266 PAs, with the aforementioned .359 wOBA vs. righties and .347 against lefties.
However, a deeper look into the numbers shows that the .359 wOBA was quite fluky, as Johnson's a career .312 wOBA hitter against righties in over 2,000 PAs. Signing Johnson in the hope that he'll be an asset against RHP is likely wishful thinking unless he all of a sudden figured out how to hit righties at age 35. That said, if the Yankees don't bring Jones back, Johnson could probably fill the designated lefty-masher role, as he is the owner of a career .363 wOBA against LHP.
The 27-year-old Reimold's a bit more of an interesting case. He burst onto the scene in 2009, and raked to a .365 wOBA over 411 MLB PAs after beginning the year utterly annihilating AAA (.530 wOBA in 130 PAs). Reimold took a huge step backwards in his sophomore season, breaking camp with the team but slumping horribly out of the gate, and bottomed out at .205/.302/.337 on May 11 before being demoted to AAA. Reimold hit OK after his demotion, though didn't exactly light the world on fire (.341 wOBA in 401 PAs) and was recalled in September more due to rosters expanding than really deserving it. Reimold finished the year even worse than he began it, posting a woeful .212/.229/.303 line over the season's final month.
Reimold began the 2011 season back in AAA, and didn't really do anything to distinguish himself (.332 wOBA) but got called up anyway in mid-May and stuck in the bigs for the remainder of the season, ultimately posting a .341 wOBA across 305 PAs (including finishing the year out strongly with a .426 September wOBA). As previously noted, that full-season wOBA consisted of a .360 mark against same-sided pitchers (though strangely only a .295 mark against lefties), and Reimold has been a slightly reverse-platoon hitter throughout his brief MLB career, with a .345 mark against righties compared to .332 against lefties.
Now, I'm not saying Reimold is the answer to the team's bench prayers — nor would he be particularly easy to acquire, given how loath Peter Angelos is to trade with the Yankees — but given that he's spent the last two seasons still trying to reacquire his 2009 mojo, perhaps a change of venue would be beneficial. As to what Reimold would cost, I have no idea, but value-wise he's probably not worth more than perhaps a B-level pitching prospect.
Again, the likelihood of the Yankees and Orioles actually consummating a deal is slim to none, but if new Oriole GM Dan Duquette was willing to talk and the price was right, the Yanks could do worse than considering Reimold (10.3% career BB%) for a seat on the bench.