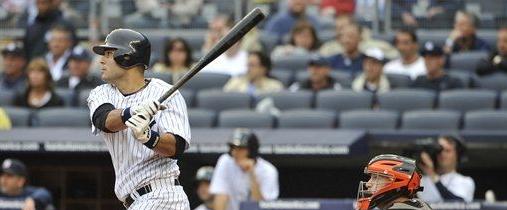 At his press conference yesterday, Brian Cashman made it sound as though Jesus Montero's presence on the 2012 roster is a certainty. "He could be a catcher, he could be a DH, he could be a bat off the bench, depending on how the roster looks," he said. Of course, that leaves out one possibility. Cashman did speak to this possibility, though not to Montero specifically: "If anybody wants to approach me on anybody on this roster, if they don't have a full no-trade clause, worst I can tell em is no." Yes, there is a chance that Montero opens the 2012 season in a different uniform. But just how likely is that scenario?
When speaking of the Yankees off-season plans, Cashman uttered a familiar refrain. "Pitching, pitching, pitching. That will be the main trust of this stuff." The Yankees have a number of able candidates for the rotation, but with close competition from the Rays and the Red Sox, and with the second Wild Card adding emphasis to winning the division, the Yankees would do well to add another high-end arm to complement CC Sabathia. A few options exist on the free agent market, namely C.J. Wilson and Yu Darvish, But there is a good chance the Yankees avoid another long-term deal and instead pursue the trade market.
Should the Yankees seek another team's pitcher, Montero would prove a valuable trade chip — perhaps the Yankees' most valuable, though left-hander Manny Banuelos will surely garner plenty of interest. In fact, just last week FanGraphs' Dave Cameron, writing for ESPN Insider (sub. required), suggested that Cashman "use Jesus Montero as trade bait to get the front-line starter he really covets." For the DH slot the Yankees could sign David Ortiz, turning the tables on the rival Red Sox. Yet there are two problems with the idea of trading Montero, and neither involves prospect love.
If the Yankees stick to their payroll level from the past few seasons, they could run into a snag when trading Montero. He's ultra-cheap, and will remain so for the next three seasons. Before factoring in arbitration figures for Phil Hughes, Joba Chamberlain, Boone Logan, Russell Martin, Brett Gardner, and David Robertson the Yankees already have $174 million committed to the 2012 payroll. A rough estimate puts those totals a little under $20 million, so the Yankees are already near their previous $200 million level. Adding Ortiz would cost them at least $13 million in 2012, and a frontline starter could cost just as much, if not more. That's quite a payroll bump.
The other reason involves the Yankees matching up with other teams. Montero is not a player the Yankees should dangle for any old pitcher. He has immense value, even if he's stuck at DH (or 1B for another team), in his bat alone. He is not, in other words, a player the Yankees should trade for someone with one or two years remaining before free agency. The only scenario in which they should consider trading him involves a 25- to 28-year-old starter who has at least three more seasons of team control. He has to be an established starter, and his current team has to either 1) have enough of a pitching surplus that they can spare such a valuable arm, and 2) have a need for offense, particularly at first base or DH.
That doesn't sound like a large group of teams and players to make a match.
After scouring each team's roster and removing the players who absolutely won't move anywhere — think Tim Lincecum, Felix Hernandez, Clayton Kershaw, etc. — and teams that will surely contend in 2012, I've come up with only three names.
Mat Latos: This is the first and most attractive match. Latos is just 24 years old, and despite a rough start to the season — perhaps due to a big innings jump between 2009 and 2010 — he still finished with quality numbers. He strikes out plenty and has a decent walk rate. Even factoring in his HR/FB ratio, perhaps a product of Petco Park, he still grades out as a very good starter. At 24 he should only get better. The Padres might want more than just Montero, but the Yankees have a number of major league ready pitchers who could go along in the deal. For Latos it could be worthwhile. It doesn't hurt that Cashman and new Padres GM Josh Byrnes hooked up on a relatively complex deal two years ago.
Jaime Garcia: This is unlikely, mostly because St. Louis recently inked him to a long-term extension. Garcia has just two years in the majors, but they've been two impressive years. He combines a decent strikeout rate with good control and ground ball tendencies, which makes for a quality starting pitcher. He ran into some problems later in 2010, likely because he was gassed — he threw 163.1 innings in 2010 after just 33.2, while rehabbing from Tommy John Surgery, in 2009. When he's on he has stuff that dives and darts all over the strike zone, and he could absolutely be a No. 2 for the Yankees. Unfortunately, the Cardinals probably need him more than they need Montero, who wouldn't fit with the Cardinals unless Albert Pujols signed elsewhere. Even then, it's unlikely they'd part with a 25-year-old pitcher with a quality major league record.
Jordan Zimmermann: Chances are the Nationals envision a rotation that includes both Zimmermann and Stephen Strasburg at its head, so they're not likely to deal him. If they did make him available, the Yankees would have to listen. He showed impeccable control in 2011, one year removed from Tommy John Surgery, and he could be even better heading into 2012, his age-26 season. As with Garcia he combines a quality strikeout rate with a low walk rate, though he doesn't get as many ground balls. Still, if the Nationals want to add Montero as their first baseman, the Yankees should settle for no less than Zimmermann.
As you can see, the options are not only slim, but unlikely. Of the three Latos has the greatest chance of moving east in a trade, and even that's not so likely given the state of San Diego's farm system. With the lack of matches, combined with the payroll issue, it's highly unlikely that the Yankees could trade Montero for something they'd consider equal value, even if they were inclined to do so. There are no guarantees, of course, but I'd bet decent money that Montero opens the 2012 season wearing pinstripes with the interlocking NY on his chest.