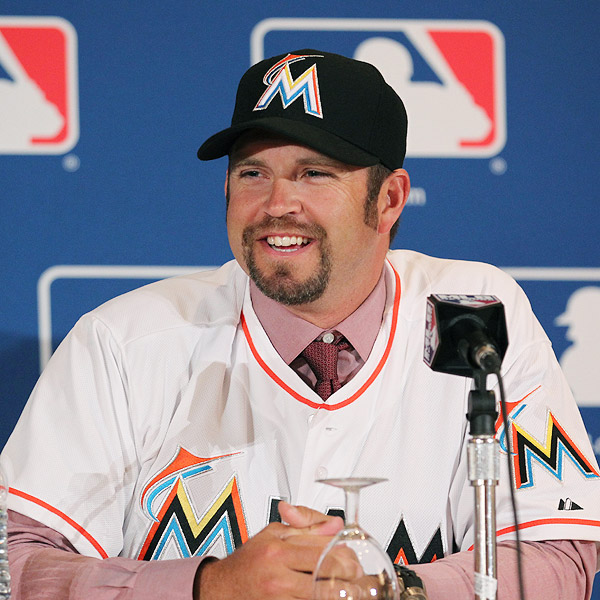 It's been a slow offseason for the Yankees, but the same can't be said for the Marlins. Not only did they change their name from the Florida Marlins to the Miami Marlins, but they also redesigned their uniforms* and have a brand new ballpark set to open next season. That park is going to be filled with new players too; the Marlins have already signed Heath Bell and agreed to terms with Jose Reyes, and recent reports indicate that they've offered Albert Pujols a ten-year (!) contract. Obviously, these aren't your grandfather's older brother's Marlins anymore.
* Are they ugly? Yes. Is everyone talking about them? Also yes. No such thing as bad publicity.
Usually it's the Yankees falling all over themselves to acquire big name players in the offseason while the Marlins sit on the sidelines, but the exact opposite is happening this winter. It's kinda neat, actually. It's fun watching big name players change teams, especially when the Yankees aren't the ones taking the risk. Bell is a reliever, Reyes has had hamstring problems, and a ten-year contract is scary no matter who gets it. These are some bold but risky moves, if nothing else.
Of course the Marlins have a history of doing this sort of thing. They acquired Bobby Bonilla, Moises Alou, Kevin Brown, Al Leiter, and Cliff Floyd (among others) leading up to the 1997 season, then won the World Series. Mission accomplished. A massive fire-sale followed, but they won their championship, so the plan worked. You can quibble with how they did it if you want, but a ring is a ring.
We've been spoiled by sustained success here in New York, but pretty much every other club operates in cycles. Three or four good years followed by three or four bad years, something like that. Retool, rebuild, then make another run and hope you get lucky. It's easy for me to say from where I sit, but I do think a lot of clubs get a little too caught up in building for the future and not living in the moment, so to speak. The Rays are a pretty good example, they've got a great team right now and have gone to the playoffs in each of the last two years, but they didn't make any moves at the trade deadline. Last year they needed an extra starter (Jamie Shields was awful and both Wade Davis and Jeff Niemann were banged up in the second half), and this past year they needed an extra bat. Instead of making a move that might have put them over the top, they stood pat. Is it better to shoot for success two or three or four years down the road, or to go for it all right now? I can see the argument for both sides.
Anyway, the Marlins are clearly going for it all right now. Bell, Reyes, and potentially Pujols are joining a club with a solid foundation in place, led by Hanley Ramirez, Josh Johnson, Mike Stanton, Ricky Nolasco, Anibal Sanchez, and Logan Morrison. The Yankees seem content with what they have, or at least they're not rushing out to make any major upgrades just yet. It's certain different than what they've done in years past and what the Marlins are doing right now.