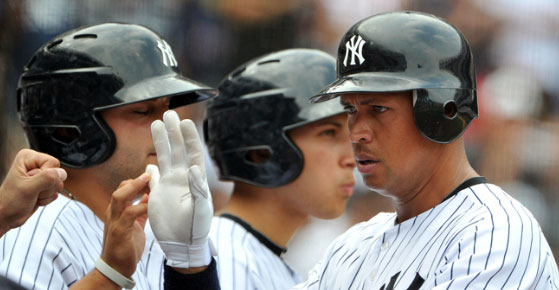 On the heels of my A-Rod OBP post from several weeks ago, commenter Andy asked whether we can expect Alex to get back over the .500 SLG threshold. While the safe answer is "probably not," what with Alex turning 37 and all next year, I was curious to see what a breakdown of Alex's 2011 round-trippers might portend for the future.
As you know, Alex Rodriguez hit a career-low 16 home runs across 428 plate appearances in his injury-riddled 2011 campaign, or a pace of 26.75 PA/HR. However, this pace wasn't impacted by his second half — up until he hit the DL in early July he'd hit 13 home runs in 344 PAs, which is a 26.46 PA/HR pace. As a point of comparison, for his career he's a 16.91 AB/HR hitter.
Aside from injury speculation, part of A-Rod's power outage is likely due somewhat to his recent struggles with left-handed pitching, as he only hit two home runs off LHP all season. However, a more interesting picture begins to emerge when looking at B-Ref's Play Index breakouts of Alex's home runs. In 2009, eight of his 30 home runs came while behind in the count, nine while the count was even and the remaining 13 while ahead. In 2010, seven of his 30 home runs came while behind, six while even and 17 when ahead. And in 2011, he hit zero home runs when behind in the count, five when even and 11 when ahead.
Now, clearly hitters fare better when ahead in the count and are subsequently more likely to hit home runs, but based on this data Alex was obviously not a threat to go yard in 2011 once the pitcher got ahead. This is further underscored by the following graph detailing Alex's last three years of tOPS+ and sOPS+ when ahead, even and behind in the count (click to enlarge):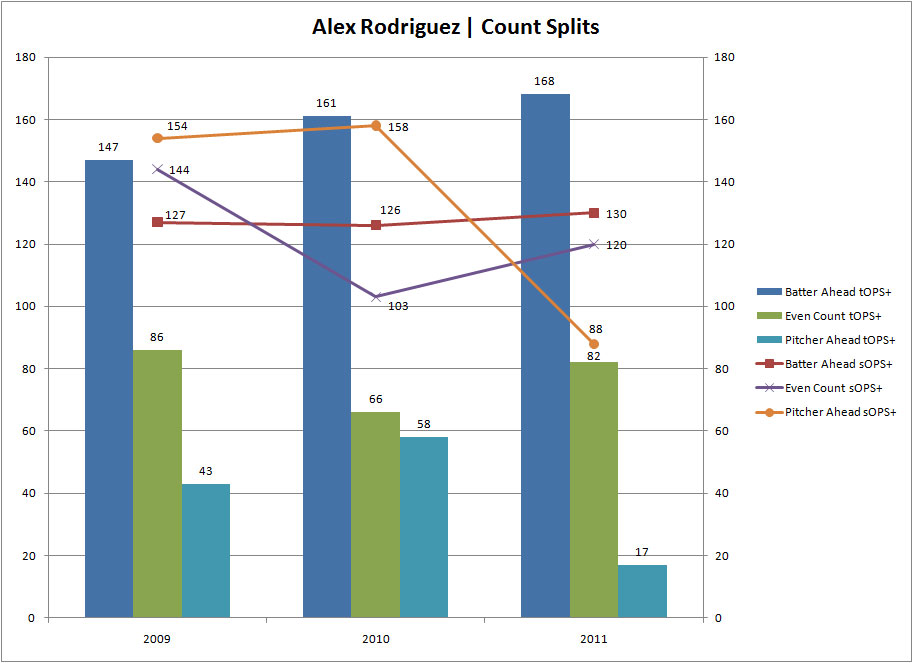 Not only was Alex not a threat to go yard when behind in the count in 2011, he wasn't a threat to do much of anything, performing 83% worse than usual in those situations, and 12% worse than league average.
So what were pitchers giving Alex after they got ahead of him?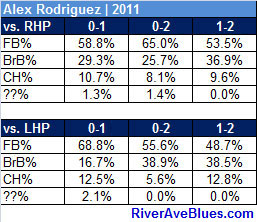 Versus right-handers, Alex could expect to see a fastball the majority of the time when behind in the count; however, once lefties got two strikes there was a strong chance Alex was going to see a curveball or a slider, two pitches he was largely ineffective (0.22 wCB/C and 0.06 wSL/C) against.
Moving on to pitch location, if we look at his home runs versus swinging strikes, it appears that Alex chased an increased number of pitches low and away in 2011 compared with 2010, which would seem to make sense given that Alex does most of his home run damage middle-in.
As far as pitch type goes, Alex's home run breakout was as follows: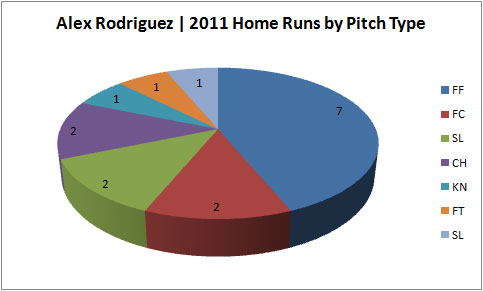 The two home runs off lefties came on a changeup (hooray!) and cutter (double hooray!), two pitches he's had some difficulties with. The other changeup homer came off James Shields, which is just awesome considering how much Shields — not to mention changeups in general — kills the Yankees.
So what does all this mean for Alex's chances of increasing his home run tally in 2012, and hopefully getting that SLG back above .500? For one, it's pretty clear he's going to need to be more aggressive when falling behind in the count. However, he'll also have to improve his ability to stay away from breaking pitches with two strikes in the count, as they're likely to finish out of the zone.
Now, the same could be said for every single player in Major League Baseball, but as illustrated above this was a pretty big weakness for Alex in 2011, and enhanced pitch recognition should help him battle back more frequently when he gets behind and ideally get a better pitch to drive. This also ties in to getting his plate discipline numbers back in line with his career averages. If Alex can regain the superb selectivity he featured for much of April 2011 combined with a revamped approach after falling behind in the count as well as against left-handers, he should return to being the middle-of-the-order force we know and love, and the SLG will follow suit.