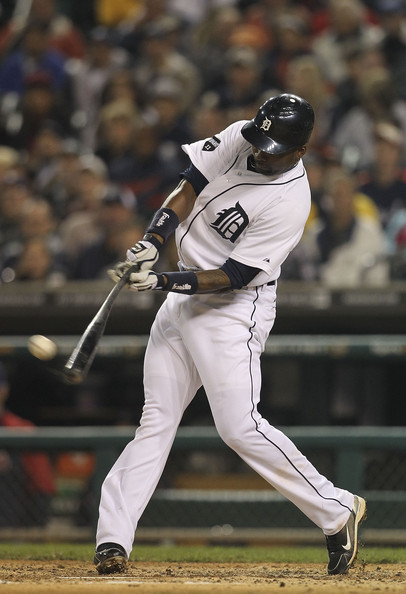 With the full 2011 starting nine returning in 2012, the Yankees have few holes to fill on the offensive side of the ledger. While many of us expect them to still add at least one pitcher via free agency or trade, the only jobs on the team that are actually open are the ones the Yankees generally spend the least amount of time on: the reserves.
However, the bench picture finally changed last offseason. After years of heading into a given season with whatever on the bench and waiting until the trade deadline to fill their needs, the Yankees went into 2011 having made what turned out to be two savvy veteran bench signings in Andruw Jones and Eric Chavez. As previously noted in this space, Jones had one of the best part-time seasons of any Yankee of the last 10 years, and we've heard all winter that the team is interested in another go-round. The Yankees have also expressed interest in bringing Chavez back as well, and while Chavez was an inspired pick-up, hitting .303/.410/.424 through May 5, his bat pretty much died after returning from his foot injury, with a .254/.295/.354 line over his final 139 PAs.
I'd be fine with giving Chavez another go of it, primarily due to how stellar his glovework has remained, but between his post-injury ineffectiveness and extreme brittleness, it could behoove the Yankees to pursue more of a sure thing (at least, offensively) for the backup infielder/Alex Rodriguez caddy role. Enter Wilson Betemit.
Now, for the record, I'm just as surprised as you are that I'm even considering a Betemit reunion with the Yankees. To put it gently, I was not exactly Betemit's biggest fan during his brief pinstripe tenure, which saw him hit .226/.278/.417 (78 wRC+) in 92 PAs in half of the 2007 season, and .265/.289/.429 (84 wRC+) in 198 PAs in 2008, before Brian Cashman pulled off one of the more memorable swindles of all time in dumping the then-execrable Betemit for Nick Swisher prior to the 2009 season.
However, something bizarre happened after that deal. Despite being so bad as a White Sock (52 wRC+ in 50 April PAs) that he got demoted to AAA for the remainder of the 2009 season, he then hooked on with the Royals in 2010 and absolutely raked, putting up a .385 wOBA over 315 PAs. Betemit somehow completely defied his career-long ineffectiveness against lefties ( .299 wOBA, 79 wRC+) that season and put up a .402 wOBA against southpaws, against a .378 mark against righties.
In 2011, Betemit fell somewhat back down to earth, though still recording a respectable campaign as he split time with both the Royals and Yankee-beating Tigers in a season that saw him hit to a .340 wOBA (112 wRC+) in 359 PAs. Betemit also returned to his righty-hitting/useless-against-lefties ways, hitting northpaws to the tune of a 128 wRC+ and vanishing against lefties (64 wRC+).
Given his righty-mashing abilities (an area in which the Yankees could use a slight upgrade in), Betemit would seem to fit in seamlessly as the 2012 version of Eric Chavez, assuming that he'd be willing to sign as a reserve. For what it's worth, Bill James forecasts more regression for Betemit in the form of a still-plenty-acceptable-for-a-reserve .331 wOBA, while SG's CAIRO — typically far more pessimistic than James — actually likes him quite a bit more, at a .345 wOBA.
Of course, coming off two above-average campaigns likely means that some team out there may be willing to give Betemit a shot as their starting third baseman. However, it's not entirely clear how any teams are viewing Betemit let alone what his status is, as there inexplicably doesn't appear to be any information on the Internet regarding whether Detroit offered the Type B free agent arbitration and if so, whether Betemit planned to accept.
Any team considering Betemit no doubt knows that he's a butcher with the glove, and so that could limit his starting opportunities and thusly perhaps make him a viable pursuit for the Yankees. I've been scouring the free agent ranks in hopes of finding potential diamonds-in-the-rough, but there really aren't a ton of appealing options out there. As noted in that above-linked Jones post, I've endorsed the idea of pursuing free agent Reed Johnson or trading for the O's Nolan Reimold should the Yankees not be able to come to an agreement with Andruw Jones, and other potential outfield options could include Johnny Gomes or maybe a trade for a different Oriole in Luke Scott, although the chances of dealing with Baltimore are quite slim.
As far as reserve infielders go, when you see names like Orlando Cabrera, Jerry Hairston Jr. (who actually would be a worthwhile pursuit, though it sounds like he may go back to Milwaukee), Edgar Renteria and Mark DeRosa, the idea of a reunion with Wilson Betemit becomes that much more appealing, so long as he's forbidden from hitting from the right side. And the combination of the righty-bashing Betemit and lefty-smashing Jones would likely give the Yankees one of the more formidable benches in baseball.