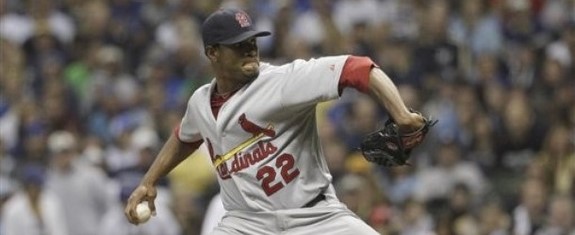 As the Yankees have continued their (extremely passive) pursuit of pitching this winter, we've wasted far too much bandwidth sorting through all different kinds of options. Joe recapped pretty much all of them yesterday, though John Danks came off the board last night by signing an extension with the maybe rebuilding, maybe going for it White Sox. Unfortunately, that contract affects one of the other pitchers the Yankees may or may not be targeting.
As some have pointed out this winter, Danks and Edwin Jackson are basically the same pitcher, or at least they're the same pitcher in terms of performance over the last three years. Danks is 18 months younger and a fastball-cutter-changeup command lefty while Jackson is a fastball-slider power righty, which certainly changes how you'd project them going forward, at least somewhat. Point being, they're comparable pitchers in terms of expected value, which is why the deal Danks agreed to last night will impact what Jackson gets this winter.
For one, Danks wasn't a free agent. He was still under Chicago's control as an arbitration-eligible player, meaning he couldn't peddle his services to the highest bidder. Despite that, he still got a fat contract. Jackson is a true free agent with a comparable performance to Danks, so he should be able to find more on the open market as the last available pitcher with some peak years remaining. The kicker here is that both guys are represented by Scott Boras, who does absolutely everything for a reason. If we fans know that Danks and Jackson are comparable, you can be sure Boras does.
Now I know hearing five years and $65M+ for Jackson is a little wacky, just because he just come off as the type of pitcher deserving of that kind of commitment. It also doesn't seem like there's a team out there that would give him that much, but I refuse to bet against Boras. This is the same guy that got a team that didn't need a seventh, eighth, or ninth inning reliever to give Rafael Soriano three years and $35M. Michael Young plays third base, is making $80M across five years, and is the face of the Rangers' franchise? No big deal, he got them to displace Young (again) and sign Adrian Beltre for that same five year, $80M contract. Boras is the best in the business for a reason.
The Yankees appear to be in no rush to upgrade their rotation, which probably is the best way to do things. Rushing into decisions is usually bad news, as the Phillies learned when they unnecessarily gave up their first round pick to sign Jonathan Papelbon before the new Collective Bargaining Agreement had been announced. Signing Jackson for five years and too many million isn't a smart move just because he's the last pitcher on the market with a smidgen of upside, but that's the road someone will end up traveling. I'd prefer to see the Yankees go short-term with Hiroki Kuroda or Roy Oswalt and let the pitching market develop as the season progresses.