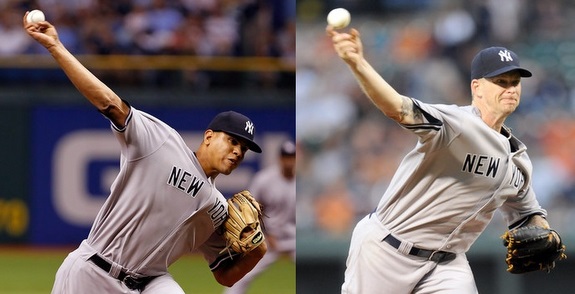 Arad asks: If Dellin Betances has a career similiar to A.J. Burnett would that be a positive? Would you take that right now? I think I would.
Oh hell yes, I'd take that in heartbeat. Burnett has been awful these last two seasons, there's no denying that, but the first eleven seasons of his career were pretty damn good. For starters, he was almost exactly one year younger than Betances is right now when he got to the big leagues, and about two months younger than Betances is right now when he stuck in the big leagues for good. There was a broken foot and an elbow injury (caused by a batted ball) mixed in, but here is what Burnett did during his pre-arbitration years (1999-2002)….
Age 22-25: 78 G 501.2 IP, 3.82 ERA, 4.03 FIP, 7.55 K/9, 4.34 BB/9, 7.4 fWAR, 6.3 bWAR
Not great, but definitely a serviceable young arm for the rotation. Burnett made four starts in 2003 before blowing out his elbow and needing Tommy John surgery, so his arbitration years (2003-2005) were impacted a great deal by injury…
Age 26-28: 56 G, 352 IP, 3.61 ERA, 3.26 FIP, 8.49 K/9, 3.45 BB/9, 8.0 fWAR, 4.9 bWAR
A.J. had 55 million reasons to leave the Marlins for the Blue Jays after the 2005 season, so for his six team controlled years, Florida got 853.2 IP of 15.4 fWAR and 11.2 bWAR pitching out of the right-hander. For comparison's sake, Edwin Jackson has produced 14.0 fWAR and 10.7 bWAR during those same six years of his career, but in 225.1 more innings. Those first six years are the ones you have to focus on when talking about prospects, because they aren't guaranteed to remain with the team beyond that point. For the sake of completeness, here is what Burnett did from 2006-2009, before his last two disaster years…
Age 29-32: 114 G, 729.2 IP, 3.97 ERA, 3.96 FIP, 8.88 K/9, 3.55 BB/9, 14.9 fWAR, 10.4 bWAR
Betances and Burnett are similar in that they are hard throwing but erratic, and also possess a knockout curveball. Dellin's changeup is reportedly better than anything A.J. has ever shown, though. Burnett skipped right over Triple-A (just four career Triple-A starts, and three were rehab starts from 2004-2007), which Betances obviously won't do. They even have the injury bug in common, though A.J. didn't start having health problems until he got to the show.
If the Yankees get six years out of Betances like the six Florida got out of Burnett, they should be thrilled. If he manages to stick around for another four years after that and gives them what Burnett gave Toronto for three years and New York for one, then it will have been a minor miracle. Yeah, he will have fallen short of his ceiling in that case (most do), but he would have developed into an above-average starter for ten years. That's better than most. Anyway, a question like this is begging for a poll, so…
If Betances had Burnett's career, would you take it right now?