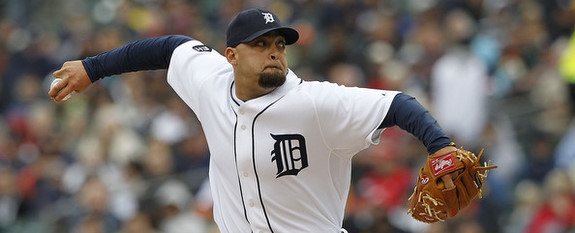 Jon asks: Should the Yankees have any interest in Joel Zumaya?
Oh yes, absolutely. There's no way they could give him anything more than a minor league contract though, the guy just can not stay healthy. Zumaya hasn't pitched in a game since suffering that scary injury against the Twins in June of 2010 (video), a fractured elbow that required two surgeries. He's also missed time with numerous shoulder surgeries and a finger problem throughout the years. Paying the new $100k retention bonus will suck, but that's the cost of doing business these days.
Despite all those arm problems, Zumaya was still sitting (sitting!) right around 99-101 mph with his fastball at the time of his injury last season. It's been five years since he's thrown more than 40 IP in a season, so we have no idea what his current performance level is like. If he gets back to what he was in 2010, we're talking about a guy with a good (but not great) strikeout rate (7.98 K/9) and a strong walk rate (2.58 BB/9) to go along with a lot of fly balls (just 35.8% grounders in his career). Typical power pitcher kinda stuff.
It's tough to consider Zumaya anything more than a total wildcard at this point, he's the definition of a scrap heap pickup. One thing he has going for him is age, having just turned 27 last month (five months older than David Robertson). Zumaya is scheduled to work out for teams later this month, and about ten clubs are expected to attend the showcase. It's unclear if the Yankees will be one of those teams, but I would guess yes. They seem to scout basically everyone. It's just a question of Zumaya's preference, since he figures to get a whole lot of minor league offers.