You folks almost didn't get a mailbag this week, but my flight was delayed yesterday afternoon and I was able to bang it out. That's some serious dedication, if you ask me. Anyway, use the Submit A Tip box in the sidebar to send in your questions, yadda yadda yadda.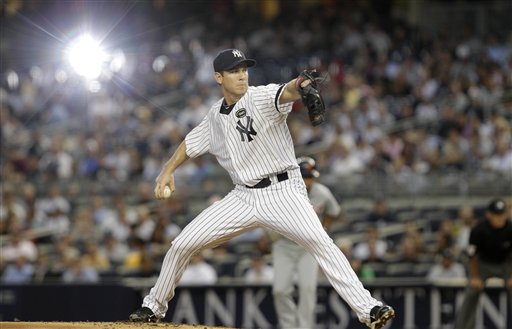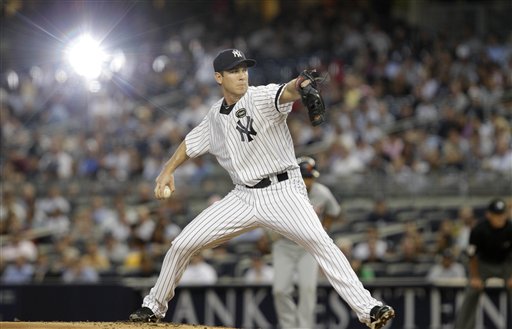 Will asks: It looks like there's a possibility that the Padres will non-tender Dustin Moseley. If they do, might the Yankees take a flier on him as a back-end rotation guy, or would they avoid him given his struggles in the AL East the first time around?
Moseley had a superficially nice year for the Padres, pitching to a 3.30 ERA in 120 IP across 20 starts before a dislocated non-pitching shoulder* ended his season. His underlying performance was generally unchanged from his time with the Yankees though, with similar strikeout (4.55 K/9 vs. 4.80) and ground ball rates (49.1% vs. 49.5%). He did cut down on the walks big time (3.72 BB/9 vs. 2.70), and his homerun rate fell off a cliff (1.79 HR/9 vs. 0.75 HR/9). I think park effects are misused quite often, or at least their impacts are overstated, but that's a definite example of the difference between Yankee Stadium and Petco Park.
Moseley is what he is at this point, and although I always say there's nothing wrong with a minor league deal, I don't think he's any better than what the Yankees currently have slated for the back of the rotation (A.J. Burnett and Phil Hughes) or stashed in Triple-A. The depth never hurts, but I don't think he's someone they should rush out and sign. Nice pitcher, nice guy, but not much more than an emergency option for a contender.
* Oh by the way, how did he hurt his shoulder? Swinging a bat. Way to go NL, I'm sure Dustin appreciates all the extra strategy.
Moe asks: Probable long man from within, next year if no acquirement this season?
Sorry Moe, but this is an oddly worded question. I think you're asking who the long man would be next year if the Yankees don't acquire someone this offseason, so that's what I'll answer.
If the season started today, it would probably be Hector Noesi. Actually, it would almost certainly be Noesi. Maybe someone like David Phelps or D.J. Mitchell has a big spring and claims the job, but I'd rather see them get regular starting gigs in Triple-A. Joe keeps saying he's going to write a post about bringing Bartolo Colon back for that role (nudge nudge), a plan I would definitely be on board with. Heck, you know what? Moseley wouldn't be a bad option for that job. Neither would the recently released Ross Ohlendorf, always a personal fave.
I don't like to see an actual prospect in the long man role because I want it to be someone the manager can abuse. Someone who's not in the long-term plans. Run the guy into the ground when the bullpen is short, then discard. Harsh, but for many of these guys, it's their only shot to remain in the show.

Antony asks: What about Hong-Chih Kuo? I doubt that the Dodgers will give him a new contract. Good lefty, obviously with some level of risk regarding surgeries and injuries. Minor league deal sounds pretty good to me.
Kuo is likely to be non-tendered at the deadline next Monday, something that was completely unthinkable a year ago. From 2008-2010, the Taiwanese southpaw led all pitchers (min. 150 IP) with a 2.30 FIP (Mariano Rivera is fifth at 2.56), which is what happens when you post a 10.64 K/9, 2.75 BB/9, and 0.37 HR/9. He held left-handed batters to a .158/.210/.247 batting line with 88 strikeouts and 13 walks in 207 plate appearances during that time. Look at this. Just filthy.
Anyway, I wrote this post about why Kuo is a non-tender candidate at MLBTR back in October, so I suggest reading that to get up to speed. Long story short, he battled back problems and struggled on the mound (5.06 FIP in 27 IP) in 2011, then hit the DL with social anxiety disorder. "If I want to still play and somebody wants to give me a try, I'll play," said Kuo in September, hinting at retirement. "If not, fine with me. I'll miss it."
Kuo is famous for having five elbow operations — including two Tommy John surgeries and a minor arthroscopic procedure to remove loose bodies in October — but now the problem is his desire to play. He said he plans to pitch a few weeks ago, but it's a red flag anytime a player mentions retirement. The Yankees should look into signing him if he is indeed non-tendered, and they'll have a little extra input courtesy of Russell Martin. Whether or not he's worth a big league contract is another matter entirely, and I don't think anyone knows the answer to that at the moment.
Kevin asks: Crazy idea: what about Alfonso Soriano if the Cubs make him, say, a $5 million dollar player? It would not be much more than bringing Andruw Jones back, and he could fill in in right next year if Swisher doesn't come back. Teams could do a lot worse than .250 with 20 HR in the seventh spot.
If the Cubbies eat enough money to make him a $5M a year player, that's still a three-year contract worth $15M for a fourth outfielder. So you're not only impacting 2012 payroll, but you're also impacting 2014 payroll, and we know the Yankees are trying to cut down on that just a bit.
Soriano, who will be 36 in January, has been hit or miss against left-handed pitchers in recent years (he's been alternating sub-.350 and .400+ wOBA's vs. LHP since 2005) but generally mediocre against righties (sub-.333 wOBA vs. RHP every year since 2007). He's pretty bad on defense and stopped stealing bases about three years ago. I'm sure he could be had for basically free, even if Chicago eats that much money, but I'd much rather see the Yankees go year-to-year with Andruw Jones and Marcus Thames types that lock themselves into the imminent disaster portion of Fonsy's career.
Mark asks: Do Yankee fans and the media give Brian Cashman enough credit and respect for the job he's done in his 14+ year career as Yankee GM?
No, I don't think so. That does come with the territory though, the Yankees never get full credit for anything because they're the Yankees and they have the biggest market and the biggest payroll and all of the advantages the other teams don't. Want to sign CC Sabathia? Piece of cake, any monkey with a checkbook can do that. Except it's not that easy, it never is. Managing a $200M anything is difficult, as is negotiating nine-figure contracts.
Cashman is far from perfect, there's no doubt about it. The Yankees have been completely unable to develop starting pitching under his watch, a pretty major flaw, but basically every other facet of the team is in tip-top shape. The lineup, the bullpen, the farm system, etc. I don't think Cashman is the best GM in the game, but I definitely think he's in the top five.