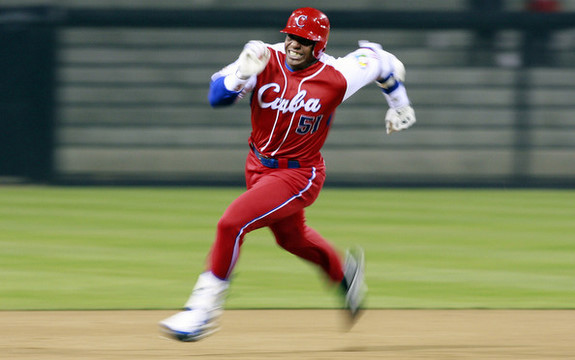 Mark asks: Hi guys, just read the homegrown outfielder story and I was wondering if signing Yoenis Cespedes this winter and getting him to replace Nick Swisher next winter makes sense; perhaps in some sort of platoon with Zoilo Almonte?
Between my post on a homegrown outfielder for 2013 and Larry's post on Swisher, we had a whole lotta comments focusing on Cespedes and his possible future role yesterday, so it's worth a follow-up post. For what it's worth, Kevin Goldstein reiterated yesterday that the Yankees continue to be the early favorites for the Cuban outfielder, at least as far as the consensus goes. Enrique Rojas reported that Cespedes is close to being granted residency in the Dominican Republic on Monday, which he must do in order to be declared a free agent. After the Office of Foreign Assets Control clears him and MLB gives their blessing, he'll be free to sign. That's expected to happen in January.
Now, assuming all that happens without a hitch, of course it would make some sense for the Yankees to sign Cespedes with an eye towards a full-time job in 2013. Considering the money he's likely to get, I would hope they won't need a platoon partner for him, whether it's Almonte or someone else. Maybe it wouldn't be a bad idea to "break him in" slowly, perhaps playing him three-quarters time rather than full-time at first, just to let him get his feet wet. But he should still play against both righties and lefties, especially since he's a right-handed batter and would get the short end of the platoon stick.
Forgetting about the contract for a moment — just because we have no idea what it will take to sign him — let's assume the Yankees sign Cespedes sometime in late-January or early-February, for argument's sake. Based on these over-the-top workout videos, it's pretty safe to assume that the guy is in "baseball shape," meaning he can report to Spring Training on day one and not be behind the other players. In a perfect world, the Yankees would start Cespedes in High-A Tampa next season (mostly because of the weather) before moving him up to Triple-A Scranton later in the summer. It's the same thing they did with Orlando Hernandez back in the day, and the same thing the Rangers and Angels did with Leonys Martin and Kendrys Morales. Alexei Ramirez is the best (and pretty much only) example of a Cuban position player stepping right into MLB and having instant success.
I don't know why I'm wasting my breath saying this, but we have to be very careful to manage the Cespedes hype. The vast majority of us don't know anything about the guy beyond those two fun YouTube videos, which were conveniently edited to make him look like a star. Ben Badler (subs. req'd) spoke to scouts who backed up the hype not too long ago, so that's somewhat reassuring. I just get the feeling that a lot of people are expecting Cespedes to be the next Vladimir Guerrero or something, which is so ridiculously unlikely. In fact, the odds are against him even being as productive as Swisher, the guy he'd be expected to replace in 2013.