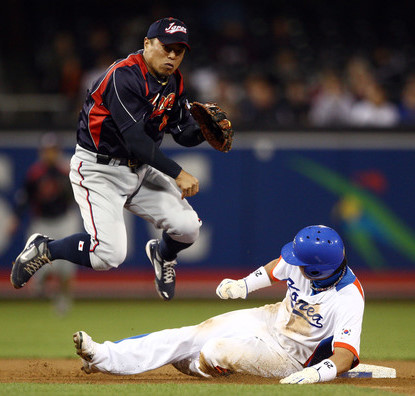 The Yankees have a very interesting situation on their hands with Hiroyuki Nakajima, the 29-year-old Japanese shortstop whose negotiating rights they won with a $2.5M bid last week. Brian Cashman and Greg Genske (Nakajima's agent) continue to negotiate a contract, but late last night Ken Rosenthal reported that Genske has broached the idea of a sign-and-trade scenario, in which the Yankees would sign his client before flipping him to another club.
Obviously Nakajima wants to play everyday, but we've heard over and over again that the Yankees view him as a bench player, a utility infielder. Nakajima has indicated a willingness to sign, and Rosenthal even says he's intrigued by the idea of wearing pinstripes and playing behind Derek Jeter, Robinson Cano, and Alex Rodriguez. The Yankees don't necessarily want to trade him though, and the FOX scribe goes on to quote a "rival scout" who raves about Nakajima's makeup. There's that makeup thing again, the Yanks really seem to have placed an emphasis on it lately.
Anyway, a sign-and-trade sounds like a wonderful idea, but we have to remember that Nakajima probably has very little trade value. I doubt the Yankees aren't going to be able to flip him for a starting pitcher or anything substantial like that. Rosenthal says the Giants and Cubs have interest in trading for him, but apparently not enough interest to bid more than $2.5M during the posting process. Jed Lowrie is a decent comp as a middle infielder with three years of contractual control and questions about his game (defense, ability to hit righties, health), and he got traded for a middle reliever yesterday. Not even straight-up either; he had to be paired with an okay-ish pitching prospect. That's basically our benchmark for a Nakajima trade, which means he'd likely have to be the second or third piece in a package of players if the Yankees want to receive anything meaningful.
The last two infielders to come over from Japan — Tsuyoshi Nishioka and Akinori Iwamura — signed three-year contracts worth $9M and $7.7M, respectively. Their posting fees were a little larger than Nakajima's ($5.3M and $4.5M, respectively), but that gives us an idea of the kind of contract it will likely take to sign him. Would a club rather have Nakajima at something like three years and $8M, or one of the various middle infielders that signed two-year contracts in the $5-11M range this winter (Aaron Hill, Clint Barmes, Mark Ellis, Jamie Carroll)?  I think they'd prefer Nakajima since it's basically the same money spread out over one more year, plus he's several years younger than those folks. Now, would you rather have Nakajima at that price, or Eduardo Nunez? Remember, Nunez is five years younger, substantially cheaper, and under team control for another five years. ZiPS projection for Nakajima (.276/.322/.389) is almost exactly what Nunez hit this past season (.265/.313/.385).
You folks know I'm not Nunez's biggest fan, but I think he offers more trade value than Nakajima, so perhaps the best thing for the Yankees would be to deal him and keep Nakajima. Then again, the market has shown that the trade return is likely to be underwhelming unless there are a few more players included in the package. The sign-and-trade idea suggest by Genske is a nice option for the Yankees to have, but I'm not quite sure it's much of a help unless they sweeten the pot with some other players. That said, the Yankees did acquire a trade chip for essentially nothing, even if they get stuck paying the $2.5M posting fee, and that's pretty awesome.