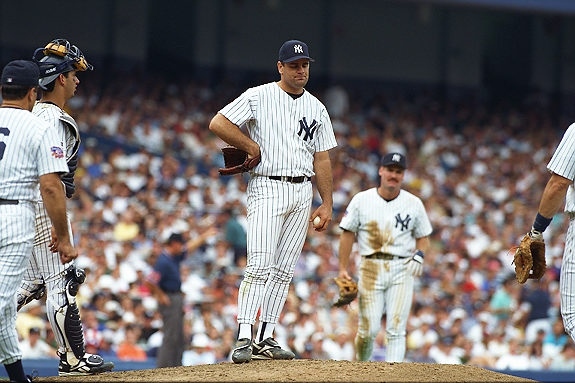 Man, I really disliked Kenny Rogers. It all started with his dreadful two years in pinstripes, and just carried on for the remainder of his career. I despised watching him take the mound, far more than I do when A.J. Burnett gets the ball these days. The left-hander's stint with the Yankees officially started 16 years ago today, when he signed a four-year deal worth $20M.
Rogers pitched to a 4.68 ERA in 30 starts during the 1996 season, then was absolutely horrible in three postseason starts. He put six men on base and allowed two runs in two innings in Game Four of the ALDS, then allowed four runs in three innings in Game Four of the ALCS, then topped it off by allowing five runs in two innings in Game Four of the World Series. Amazingly, the Yankees won all three games primarily because David Weathers and Brian Boehringer were nails in long relief (five earned runs in 17.1 IP that postseason, and three came on one Andruw Jones homer).
The Yankees traded Rogers to the Athletics for Scott Brosius after the 1997 season, after he'd pitched himself out of the rotation and the team's future plans. Brosius obviously worked out well in the sense that the Yankees won three World Series with him at the hot corner, but he wasn't all that great aside from 1998. Anyway, that's a trade no one in New York regrets. Rogers … well everyone regrets that signing.
* * *
Here is your Friday night open thread. Both the Rangers and Nets are playing tonight, but talk about anything you want here. enjoy.