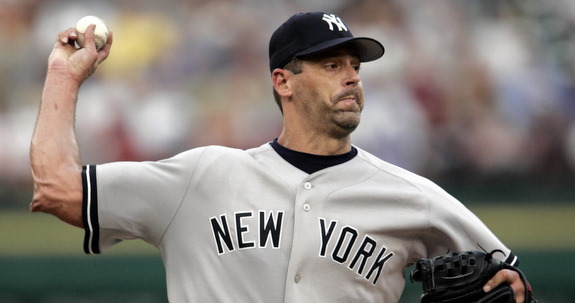 In many ways, Javier Vazquez and Kevin Brown are the poster boys for the Yankees' pitching failures in the mid-aughts. Javy bears most of the blame for the Game Seven loss in the 2004 ALCS, but of course he couldn't have done it without the help of Brown, who was nice enough to load the bases on a single and two walks with one out in the second inning before Johnny Damon hit that grand slam. The Yankees acquired Brown from the Dodgers eight years ago today, sending Jeff Weaver, Brandon Weeden, and Yhency Brazoban to Los Angeles.
Brown, 38 at the time, was coming off a monster season with the Dodgers in 2003. He'd used his trademark sinker to generate a ground ball on 62.5% of the balls he allowed in play while striking out 7.89 batters per nine and walking just 2.39 per nine. Stretch that out over 32 starts and 211 IP, and you've got a 6.0 fWAR and 5.4 bWAR season. Of course Brown never replicated that success in pinstripes, though his 2004 regular season wasn't as bad I remember: a 4.09 ERA (4.03 FIP) in 132 IP across 22 starts. The playoffs were a disaster, and he did miss time with a back strain and a broken left hand after infamously punching a clubhouse wall.
The 2005 season was a complete catastrophe. Back problems forced Brown onto the disabled list three different times, and when he was on the mound he couldn't prevent runs from scoring. He allowed 57 runs in his 73.1 IP (13 starts), resulting in a 6.50 ERA. The peripherals were okay (3.61 FIP) but at that point, who cared? Brown wore out his welcome in New York and was essentially forced out of baseball after the season, an unceremonious end to a great career that should earn him Hall of Fame consideration.
* * *
Here is tonight's open thread. All three hockey locals are in action tonight, but talk about anything you want. Go nuts.