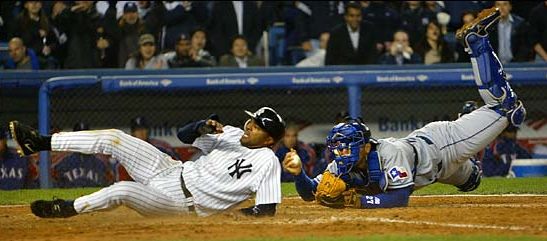 The 2004-2005 offseason was quite ridiculous in Yankeeland. They (theoretically) reinforced the rotation with Jaret Wright, Carl Pavano, and Randy Johnson, brought back Tino Martinez, and thought they found someone to replace Miguel Cairo at second base. Seven years ago today, the Yankees signed Tony Womack to a two-year deal worth $4M, apparently mesmerized by his .307/.349/.385 batting line with the Cardinals in 2004 while ignoring the .262/.303/.352 he hit in the 2,193 plate appearances prior to that.
Predictably, Womack was terrible. He had three hits on Opening Day but then fell into a 14-for-55 funk that brought his batting line down to .233/.292/.283 on April 23rd. As an added bonus, his defense at second was rather atrocious. The Yankees needed just a month to pull the plug, moving Womack to left field and calling up Robinson Cano soon after the calendar flipped to May. Cano finished second in the Rookie of the Year voting with his strong rookie showing, and Womack finished the season by hitting .238/.257/.262 in his final 257 plate appearances, reduced to part-time duty.
Brian Cashman managed to turn Womack into two real live players after the season, trading him to the Reds for non-prospects Ben Himes and Kevin Howard. He was out of baseball a year later. The best thing Womack ever did in New York was unite Yankees fans, who hated him universally. No one liked the signing, no one liked him at second base, no one liked him in the outfield, and not one liked him at the plate. No one liked the guy at all. It was a beautiful thing, the united hatred.
* * *
Here is tonight's open thread. All three hockey locals are in action, but that's pretty much it. You can talk about whatever you want here, so have at it.