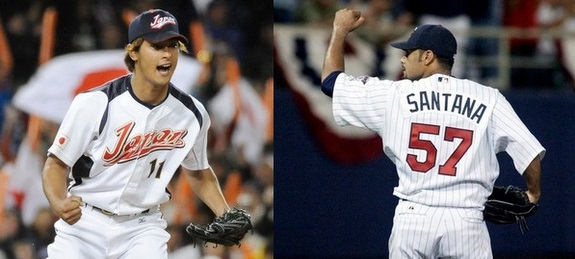 After much speculation and anticipation, the Nippon Ham Fighters officially posted Yu Darvish late last week. MLB clubs have until 5pm ET this Wednesday to submit their bid for the 25-year-old right-hander, and so far the Yankees have been playing coy. Team officials "sounded pessimistic about making a significant posting bid, if they submit one at all" according to Joel Sherman, but this is exactly how Brian Cashman has operated the last few years. It's hard to take these claims seriously.
Four offseasons ago, the Yankees were in a similar position to the one they are in right now: in need of pitching with an ace-caliber starter in the prime of his career to be had. The Twins were openly shopping Johan Santana — just 28 years old and coming off one of the most dominant four-year stretches in recent baseball history — because he was under contract for just one more season and they couldn't afford to sign him long-term. Only a few clubs had the prospects to put together a trade package and the financial wherewithal to sign him to a huge contract extension, and the Yankees were one of those teams.
Cashman did the song and dance as trade rumors swirled for a while, but ultimately he and the Yankees passed on Santana. They rolled the dice with Phil Hughes and Ian Kennedy in 2008, an experiment that was a disaster and ultimately contributed to the team missing the playoffs for the first time in a decade and a half. Passing on Johan was just one piece of Cashman's grand rotation plan though, a plan that included pursuing CC Sabathia as a free agent during the 2008-2009 offseason. The consequences were pretty severe in 2008, at least around these parts, but the plan worked masterfully. The Yankees signed Sabathia — another left-handed ace in his prime, but one without as many question marks as Santana — for nothing but money and watched him lead them to the 2009 World Championship. This offseason, Cashman and the Yankees could be pulling the same trick again.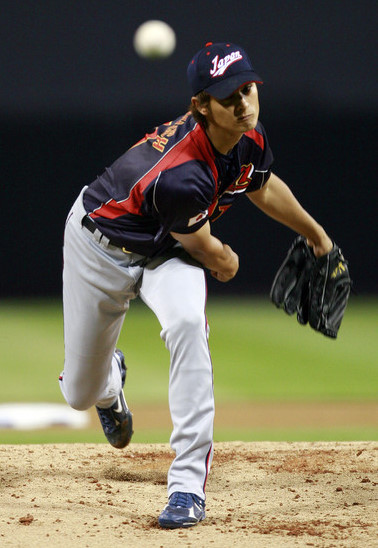 In Darvish, teams have a chance to acquire someone purported to be an ace but with very real questions about his game. Santana's problem was his sudden spike in homerun rate and reports an elbow issue that caused him to lose some velocity and reduce the usage of his slider. He was proven in MLB and the AL though, which is the question with Darvish. We don't know how he'll transition to the States, and the track record of Japanese starters over here isn't very good beyond Hiroki Kuroda. The Yankees would have had to pay twice for Johan (once in prospects then once in a huge contract extension), but Darvish is available for only money (including a huge up front posting free payment).
Playing the role of Sabathia this time around is next offseason's crop of free agent pitchers, which includes Cole Hamels, Zack Greinke, John Danks, Matt Cain, Jeremy Guthrie, Francisco Liriano, Brandon McCarthy, Anibal Sanchez, and Shaun Marcum. Some are bonafide stars, some are mid-rotation workhorses, some are risky high-upside plays. Some of those guys will surely sign extensions over the next ten months, but the sheer volume of quality pitchers leads me to believe that at least some of them will be available next offseason. By not paying big bucks for Darvish and his uncertainty now, the Yankees could be gearing up for a run at one of those arms next winter, guys with track records in MLB and generally safer bets.
What Cashman did four winters ago — putting all his eggs in the Sabathia basket — was incredibly risky in many ways, but there isn't that much risk this time around. For one, he already has CC anchoring his rotation, so there isn't that need for someone to place atop the rotation. They're just looking for someone to put between Sabathia and ahead of everyone else. Secondly, Sabathia was The Guy after the 2008 season, the best pitchers on the market after him were A.J. Burnett and Derek Lowe, nice pitchers (at the time) but hardly whom you'd consider rotation stalwarts. This time around the options are plentiful, even if a few of those guys sign extensions like I said.
No one asked me, but I would like to see the Yankees sign Darvish because it's not often a 25-year-old with his pedigree comes along for nothing more than money. Then again, I could also see them stand pat or acquire someone like Kuroda or John Danks for 2012 with an eye towards going nuts on pitching next winter. Not saying I necessarily agree with it, but I could see them going that route. There wouldn't be as much risk as there was four years ago, but the thought process is basically the same. It's already worked once, but the question is can it work again?