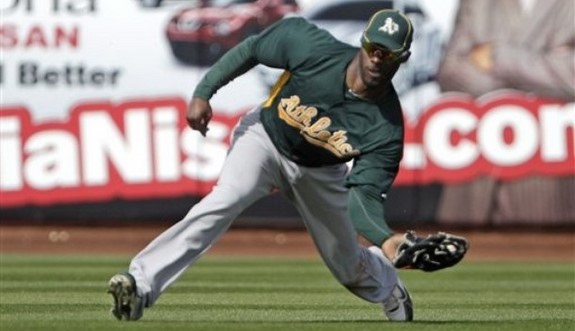 I gotta say, I was surprised by how many people sent in mailbag questions about Jai Miller over the weekend. You folks really don't miss a thing. Anyway, Miller is a soon-to-be 27-year-old right-handed hitting outfielder that the Athletics designated for assignment on Friday after acquiring three 40-man roster players from the Nationals in the Gio Gonzalez trade. He had a huge year for their Triple-A squad, hitting .276/.368/.588 with 32 homers and 16 steals (in 16 attempts!) in 475 plate appearances before getting a late season cup of coffee, but now he's waiver fodder.
The Yankees are lacking upper level outfield depth, so players like Miller will surely pop up on their radar whenever they become available. Does he made sense for them though? That's what we're here to find out. Let's start with his negatives…
The Cons
As good as Miller was in Triple-A this past season, it was his fourth straight full season at the level. He posted a .357 wOBA in 2008, a .375 wOBA in 2009, a .351 wOBA in 2010, and then a .410 wOBA this past year. You have to wonder if his huge year is the result of tangible improvement (more on that later), or just repeating the level yet again.
No stranger to strike three, Miller struck out 179 times this season, or 37.7% of his plate appearances. In 1,750 career plate appearances at the Triple-A level, he's struck out 550 times, or 31.4%. For comparison's sake, Mark Reynolds struck out in 31.6% of his plate appearances this year, the worst rate in the majors. Putting the ball in play is not his forte.
Miller appears to be out of options, meaning he must clear waivers to be sent to the minors next season. These things are tough to know for certain unless you've followed the guy's entire career closely, so don't hold me to that.
The Pros
Miller has definite power in his 6-foot-3 and 205 lb. frame, though his 32 homers and .312 ISO this season are career highs by far. During his three previous Triple-A stints, he hit 19, 16, and 18 homers with .205, .224, and .264 ISOs, respectively. As you can see here, he's able to drive the ball out of the park the other way, at least on occasion.
All those strikeouts are due in part to his propensity to work deep counts. Miller walked in 11.4% of his plate appearances this season and 10.4% of the time during his Triple-A career. It's not a mind-blowing walk rate, but it's absolutely above average.
The 16-for-16 thing this year might be an aberration, but Miller had stolen 31 bases in 43 chances (72.1% success rate) in his prior Triple-A seasons. He wasn't the highest percentage base stealer prior to 2011, but he is capable of swiping the occasional bag.
Miller can man all three outfield spots and is a fantastic defender, with Baseball America even calling him a potential Mike Cameron clone in their 2010 Prospect Handbook, the last time he was prospect eligible.
Interestingly enough, Miller showed almost no platoon split in 2011 and hasn't throughout his minor league career, so he's not necessarily a platoon candidate. Given the considerable increases in his strikeout rate and power production this year, there's a chance he altered his swing or approach in some way. We won't know that for sure unless we talk to the guy (or his hitting coach) because minor league data is so limited. The power spike in 2011 could be a fluke, but he could be pulling a Nelson Cruz circa 2008 for all we know.
Based on what we know, we can't definitively say that Miller would be better use of a 40-man roster spot than Justin Maxwell, another right-handed hitting outfielder that is out of options. Miller is 13 months younger than Maxwell though, and he also isn't coming off major shoulder surgery. If nothing else, he's the healthier choice. Because he's been designated for assignment and outrighted off the 40-man roster before, Miller can elect free agency if he clears waivers this week. It would make more sense for the Yankees to wait the process out to see if he becomes a free agent, then pursue him on a minor league deal if he does. I wouldn't call Miller a priority on the waiver wire, but he would be an interesting pickup for the Triple-A outfield if everything falls into place.