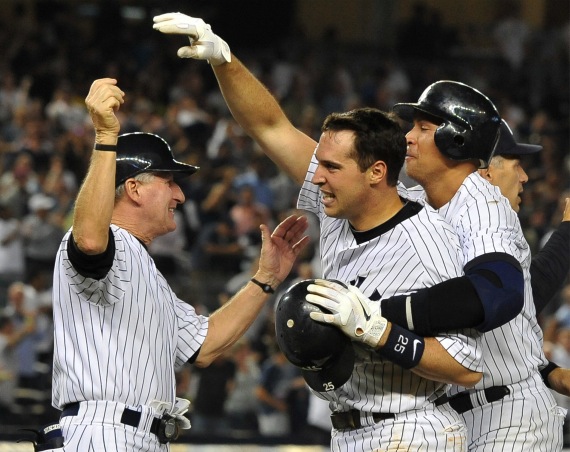 If the Yankees off-season seems to be moving slowly, it's for good reason. There just aren't that many moves to make. The starting rotation would benefit from an upgrade, and the bench needs filling. The former will take time, and the latter usually comes towards the end of the off-season. In terms of starting position players and bullpen, the Yankees are pretty set. In fact, the biggest upgrades are likely to come from within. It all starts with the big bat at first base.
In the last two seasons Mark Teixeira has disappointed. The Yankees signed him to a $180 million contract with high expectations, and he delivered fully in his pinstriped debut. His 2009 season ranked among his best, and his 42.9 runs above average led the Yankees by a decent margin. Yet in the last two seasons combined Teixeira has managed only 50.8 runs above average. While he's still ranked among the team's best hitters, he hasn't provided the top-level production expected of him. A return to his days of 40-plus runs above average could be vital for the 2012 squad.
Teixeira has talked about his failures in 2011, and this week he reiterated them as he received the March of Dimes' Sportsman of the Year award.
"Right-handed, I thought I had a great year," Teixeira said. "Power-wise, I thought I had a great year, but my average was very disappointing. Being able to hit the ball the other way a little bit more, use the whole field, take the shift away, it's going to really help me out."
There is nothing false about Teixeira's assessment. Against lefties he hit .302/.380/.587, good for a 158 wRC+. That ranked 25th out of 204 players with at least 110 PA vs. left-handed pitching. In terms of power Teixeira is spot-on, too. His .246 ISO was the fifth-best mark of his career, despite declining league-wide power numbers — his ISO ranked 12th in the majors. And, of course, his average was quite disappointing. This was not only because it was so low in general, but also because it was two straight years of sub-.260 hitting from a player who hadn't hit below .280 since his rookie season.
The issue of hitting the ball the other way is something that almost everyone sees when watching Teixeira hit every day. While hitting into the shift represents one aspect of his left-handed hitting futility, it's not the whole of it. Oftentimes he tries to pull outside pitches, which leads to weak fly balls and grounders, not to mention the now-infamous pop-ups. A quick look at his spray charts against right-handed pitching makes the issue as clear as possible.
In 2011 Teixeira lacked any power to the opposite field. While the green and red dots denote where the ball was fielded, and not necessarily where it landed, the idea is still the same. The green dots deep to center, left-center, and left field are indicative of balls hit far enough, or hard enough, to get near the wall. In 2011 he hit just one baseball to the warning track in center, left-center, or left, and it was a fly ball that was caught. None of the ball he hit in that direction were hard enough to get by the outfielders, for the most part. So, again, this issue extends far beyond hitting into the shift. It's an issue with his approach as much as it his his swing.
Thankfully, Teixeira is already hard at work. He hasn't resumed baseball activities yet — that begins with the new year. But he knows the issue and plans to put a greater focus on hitting for contact from the left side. In the meantime, he's already started off-season workouts and has dropped 10 pounds since the season. This might not seem that important, since Teixeira has never seemed anything less than athletic. But it does emphasize a point that I haven't seen mentioned often. At this point last off-season, Teixeira was still rehabbing.
In fact, in the last two off-seasons Teixeira has faced unprecedented challenges. In 2009 he played deeper into October (and November) than he had previously in his career. That necessarily changes his off-season habits. Perhaps his conditioning suffered and that played a part in his disappointing 2010 season. Teixeira ended the 2010 season with a hamstring injury, suffered in mid-October. That takes rest and rehab, and chances are he was again thrown off his normal routine. This year, however, with an early October exit and a clean bill of health, Teixeira is able to go through the motions as he's become accustomed. That he's already lost weight is only a positive sign.
The 2012 Yankees offense might be set, but that doesn't mean it's worry free. Curtis Granderson, for instance, had a career year that will prove difficult to repeat. Derek Jeter is another year older, and could see a further decline in his numbers. It's tough to know what they can expect from Alex Rodriguez. Teixeira stepping up, then, factors heavily into the strength of the 2012 offense. A return to stardom for him could help offset declining performance from others.