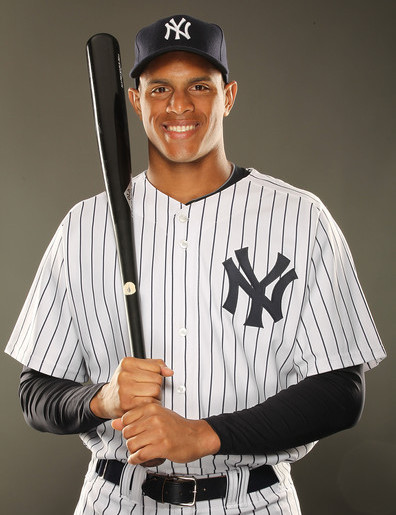 The Yankees have a very balanced outfield situation, at least in terms of the 40-man roster. Their big league outfield is set with Nick Swisher, Curtis Granderson, and Brett Gardner, a three-man unit that's been the best in the AL and arguably the best in baseball over the last two seasons. Zoilo Almonte and Melky Mesa are both on the 40-man but are still a ways off from being big league options. Then there's Chris Dickerson and Justin Maxwell, the former of whom we saw quite a bit of last season. The latter is still very much an unknown.
Maxwell, 28, was having a dynamite season with Triple-A Scranton this past summer (.418 wOBA and 16 homers in 48 games) before he tore his labrum robbing a homer at the wall. He had surgery and his season was over before the calendar flipped to June, though he picked up some service time late in September when the Yankees called him up and immediately placed on the 60-day DL to free up a 40-man spot for Jesus Montero. When they needed to clear more 40-man space this offseason, they opted to release Greg Golson and designate Colin Curtis for assignment rather than dump Maxwell. That's a pretty good sign that they think he has some value.
Chad Jennings spoke to VP of Baseball Ops Mark Newman yesterday, who indicated that Maxwell is expected to be healthy next season and has a chance to contribute off the bench. "He's got some tools, and he's a high-caliber individual who works," said Newman, who isn't kidding about the tools part. When Baseball America ranked Maxwell as the Nationals eighth best prospect prior to the 2010 season (the last time he was prospect eligible), this was part of their scouting report (subs. req'd) …
A physical specimen with plus athleticism, Maxwell has above-average power potential and a patient offensive approach. Nats hitting coach Rick Eckstein and first-base coach Marquis Grissom got the idea to lower his hands to chest level after watching video of other long-levered sluggers like Willie Stargell and Dave Winfield, and the adjustment fueled Maxwell's September surge by getting him in a stronger position to drive the ball more consistently. He's a plus runner who stole 41 bases in 50 tries last season. He's also an above-average defender in center field with excellent range and instincts.
As wonderful as that sounds, Maxwell's weakness has always been his inability to make consistent, quality contact. He's drawn walks (14.6%), hit for solid power (.178 ISO), and been a threat on the bases (11-for-13 in stolen base attempts) in his 260 big league plate appearances, but he's hit just .201 and has struck out 31.9% of the time. In 924 career Triple-A plate appearances, he owns a 12.4% walk rate (very good), a .192 ISO (also very good), gone 62-for-79 in stolen base attempts (78.5% success rate, pretty good), a .259 batting average (decent at best), and a 30.6% strikeout rate (very bad). The guy does everything but get the bat on the ball with regularity.
If the Yankees truly feel that Maxwell can help the team off the bench, his bench chance to do so would be as a defensive replacement and a platoon bat against lefties. He has shown a sizable platoon split in his limited big league time, and also demolished lefties in Triple-A this past season with a similar split throughout his minor league career. In a perfect world, the Yankees would just send Maxwell back to Triple-A this season with an eye towards the second half or 2013, but he's out of minor league options. They can't send him to the minors without first passing him through waivers, and that creates a bit of a roster problem.
When it comes to next year's fourth outfielder, I think Plan A, B, and C should be Andruw Jones. He did everything the Yankees could have possibly asked him to do in 2011 — hit for power, draw walks, hit lefties, play average defense, contribute in the clubhouse — which was nothing more than a repeat of his 2010 season with the White Sox. If he wants to come back, and it sounds like he does, then they should welcome him back with open arms. However, if the Yankees drag their feet and Jones ends up elsewhere, letting Maxwell compete with a non-roster invite or two (Scott Hairston? Conor Jackson?) for the job is a pretty decent backup plan. He has some interesting tools, so they might as well see what he can do if Andruw doesn't come back.