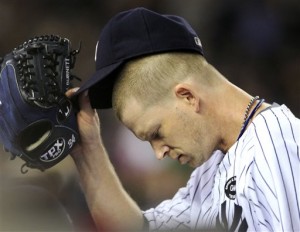 The last two offseasons have been all about finding a number two starter for the Yankees, someone to pair with CC Sabathia. They made a huge offer to Cliff Lee last winter, and this year they've at least made an attempt at Yu Darvish after showing little interest in C.J. Wilson. We fans have already started looking at next winter's free agent crop in anticipation of the search continuing next year. Something got lost in translation somewhere along the line though, what exactly are we talking about when we refer to a number two starter?
Whenever we talk about prospects, we tend to pigeon-hole them into rotation slots because that's the easiest way to talk about their long-term potential. A number one starter is one of the best pitchers in baseball, but a number two is still really good, but a notch below number ones. A mid-rotation guy is solid but lacking something (a third pitch, command, etc.) that prevents him from being any better. A number four or five starter, a back-end guy, they're generally easy to find and lack a number of things to be a successful starter long-term. Baseball America puts a list of tools and their importance to the various positions in their Prospect Handbook every year, and they define a number two starter as someone with two plus pitches, an average third pitch, average command, and average makeup. That's prospects though, big leaguers are much different.
The term "number two starter" is pretty vague when talking about guys in the Majors. You could take it literally and consider the second best pitcher in every rotation a number two starter, but I think we can all see the problem with doing that. If you're a die-hard believer in WAR, then perhaps a number two starter is someone in the 3-5 WAR range, give or take a little. If you're going to stick with that definition, then looking at a player's value over several years is important. Pitchers that consistently sit in that range are more reliable that someone who has had an up-and-down career. Does that apply to the Yankees though, do they need that consistent 3-5 WAR guy in the rotation? You can make that case, but I don't buy into WAR enough to say that definitely.
Realistically, what the Yankees need is a pitcher better than the group of Ivan Nova, A.J. Burnett, Phil Hughes, Hector Noesi, David Phelps, etc. That's essentially what it boils down to. That guy doesn't have to be as good as Cliff Lee, but it sure would be nice if he was. That's what they need right now heading into the season, which is different than what they're going to need ten months from now when the playoffs start. Ten months from now, they just need someone to pitch like a number two, it doesn't matter who it is or how they were acquired or how much they're being paid. Nova was that guy last year, but they probably shouldn't count on him doing that again. It's not that he can't, but young pitchers tend to be unpredictable. Of course, the better your staff is, the more likely it is that someone steps up and pitches like that number two in the playoffs.
Now I don't want to come off as the spoiled Yankees fan I so obviously am, but the playoffs are not a given. They'll be a little easier to get into now with the second wildcard, but the Yankees have a really good team and have a better chance than most at qualifying for the postseason. There is some value to winning the division now, so perhaps they need that mythical number two starter right now to help them to another AL East crown. I'm not sure it's an absolute necessity, but it wouldn't hurt. The point is, number two starters come in all shapes and sizes, and they don't have to pitch like a number two all season long. Timing is everything. Sometimes we get too caught in labeling people certain things that we forget about context.