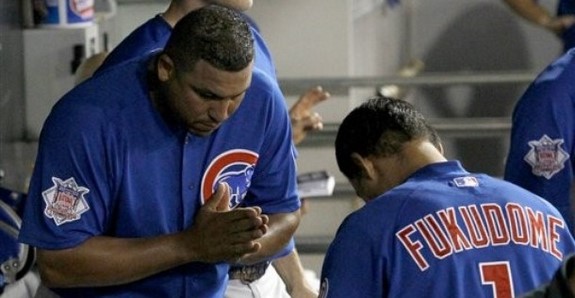 The Cubs' new regime didn't even give Carlos Zambrano a chance. After watching his numerous meltdowns and blowups from afar, the new Theo Epstein and Jed Hoyer-led baseball operations department traded the right-hander to the Marlins yesterday. All they had to do was eat $15.5M of the $18M owed to Zambrano next year, the last one on his contract, and take back a player that was nearly non-tendered last month. Chris Volstad was so far out of Miami's plans that they didn't even invite him to their new jersey unveiling earlier this offseason.
The Yankees don't have a new regime, but they are looking to move their own troubled right-hander. During the Winter Meetings we heard that they were shopping A.J. Burnett, reportedly willing to pay $8M of the $33M left on his contract. We know that amount won't get it done, but it's just a starting point for negotiations. A few weeks later we heard that a number of teams were mulling over the idea of trading for A.J., but so far nothing has materialized. Ken Rosenthal reported yesterday that the Pirates were one of those clubs, but ultimately everyone is asking the Yankees to basically eat everything left on Burnett's contract. As the Zambrano trade shows, that probably what it'll take to facilitate a deal.
In terms of performance, Burnett and Zambrano have been very, very similar over the last three seasons. The former has stayed healthier so he's thrown 140 more innings during that time, but the latter isn't as homer prone (0.73 HR/9 vs. 1.25). Burnett has slight edges in strikeout (7.91 K/9 and 20.0 K% vs. 7.49 and 19.1), walk (3.91 BB/9 and 10.1 BB% vs. 4.11 and 10.5), and ground ball (45.6% vs. 43.6%) rates, though Zambrano has the sexier ERA (3.99 vs. 4.79). Obviously the whole NL Central vs. AL East thing plays some part in that. The two have similar BABIPs (.299 vs. .303), xFIPs (4.19 vs. 4.27) and SIERAs (4.15 vs. 4.33) as well.
Not a whole lot differentiates the two on the field over the last three seasons, but off the field they are quite different. Zambrano is a noted hot-head, getting suspended by his team multiple times for run-ins with coaches and teammates. He even had to attend an anger management class. Burnett showed up with a black eye and punched a wall in 2010, but he's never had any problems remotely close to what Zambrano has put the Cubs through over the last decade. That's not enough to overcome his poor performance, but it's definitely not negligible.
Yesterday's Zambrano trade doesn't make it any more likely that the Yankees will be able to move Burnett, but it might tell us a little something about what it will take to make it happen. The Cubs ate 86% of the money left on Big Z's deal and took an out-of-favor player with a smidgen of upside in return. The Yankees would have to eat $28.4M of the $33M left on Burnett's deal to match that percentage, which I'm guessing is beyond where they're willing to go. There's also the whole one year of Zambrano vs. two years of Burnett thing, and we shouldn't discount the Ozzie Guillen factor. He and Zambrano are friends and countrymen, so I'm sure he was consulted prior to the deal. The Yankees won't have that Guillen-like edge when trying to trade the Burnett.
Much like the Derek Lowe trade — when the Braves ate two-thirds of his salary and received a fringe low-level prospect in return — the Zambrano deal gives us an idea of what it takes to move an underperforming, overpaid player like Burnett. The Yankees will have to eat upwards of $20-25M to make it happen, getting next to nothing in return. Volstad represents the best case return, and he's back end of the rotation fodder. Is that worth it for the Yankees? Maybe, but I'm not 100% convinced of it. Either way, I'm not betting on A.J. getting traded anytime soon.