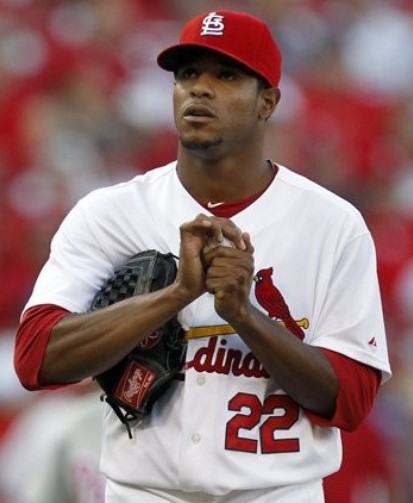 Word got out late last night that Hal Steinbrenner met with Scott Boras during the quarterly owners meeting in Arizona, specifically to discuss free agent right-hander Edwin Jackson. The Yankees owner told Boras they would "think about the right deal" for Jackson, indicating that they "want to keep deals short." Given all this talk about the 2014 austerity budget, that's not a surprise.
Pitchers and catchers will report to camp in just five weeks, so the offseason clock is running out for teams that want to improve and players that want to be employed in 2012. We've already seen some prices drop in recent days, specifically that sweetheart one-year deal Ryan Madson (another Boras guy) took from the Reds. Paul Maholm also signed for less (one-year, $4.25M) than what he probably could have gotten earlier this winter, a contract that pales in comparison to what some comparable pitchers (Aaron Harang, Chris Capuano, Bruce Chen) received. It's still a sellers' market, just not as much of one as it was a month ago.
At this point, I've kinda resigned myself to the fact that the Yankees will end up signing Jackson. The parallels to Rafael Soriano last year are pretty staggering, and all the increased chatter over the last week only fuels that fire. He's a fine pitcher and will undoubtedly help the team, so my only significant concern is the contract, and specifically its potential to hinder a pursuit of Cole Hamels next year. There's no guarantee the lefty will even hit the market — right now the two sides are only talking about a one-year deal for 2012 — but I want them to be prepared if he does. Like CC Sabathia back a few years ago, Hamels is an elite arm that you have to prepare for in advance, not just someone you pursue because he just so happens to be the best guy on the market, kinda like Jackson now. A one-year deal for Roy Oswalt or Hiroki Kuroda both fits the Hamels plan and improves the rotation this year.
The report of ownership getting involved both does and doesn't scare me. Obviously bad things tend to happen when owners play GM, but at the same time this doesn't sound like an instance in which Hal sought out Boras. The agent showed up to the owners meetings to do his job, and that's really it. Boras did meet with the Nationals' owners about Prince Fielder yesterday, so it's not like this trip was specifically designed to unload Jackson on the Yankees. Or maybe it was, we can't be sure, but for some reason I feel more comfortable with this type of thing in Hal's hands than I do some of the other higher-ups.
Everything we've heard over the past week, about the Yankees reevaluating their budget and this last stuff with Boras, sure makes it sound like something is go down with Jackson before long. All the evidence is pointing in that direction. I've made it no secret that I'm not Jackson's biggest fan, but he is a worthy add to the rotation under the right terms. With prices starting to drop around the league, the chances of the Yankees getting him under favorable terms is going up just a tad, and every little bit helps.