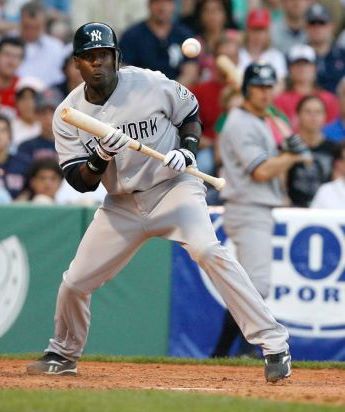 Do you remember just how bad Angel Berroa was with the Yankees? They signed him on this date three years ago, sent him to Triple-A to start the season while Ramiro Pena got a chance to backup Cody Ransom at third, who was filling in for Alex Rodriguez while he got his hip repaired. Berroa was called up after Ransom blew out his quad, then reached base a whopping seven times in 31 plate appearances. Three singles, three walks, one double for a .174 OBP and a .164 ISO. That's a -8 OPS+ and a -16 wRC+. Thankfully, he was jettisoned once Ransom got healthy in late-June.
I know most people think Berroa stole the 2003 Rookie of the Year Award from Hideki Matsui, but that's not really the case. Godzilla hit .287/.353/.435 with 16 homers as an average (if not a touch below) fielding left fielder, but Berroa hit .287/.338/.451 with 17 homers as an average fielding shortstop. The second player is more valuable, and it's not particularly close. Heck, you can make a case that Jody Gerut was a better RoY candidate than Matsui since he hit .279/.336/.494 with 22 homers and solid glovework in all three outfield spots.
That said, we know RoY awards do not guarantee future success, and the only player who got AL RoY votes that year and has gone on to have a better career than Matsui is Mark Teixeira. He hit .259/.331/.480 with 26 homers and finished fifth in the voting.
* * *
Here's your open thread for the night. All five hockey and basketball locals are in action, but Time Warner customers are still MSG-less because of the Dolans. I sure hope this gets resolved soon. Anyway, you folks know what to do, so go nuts.