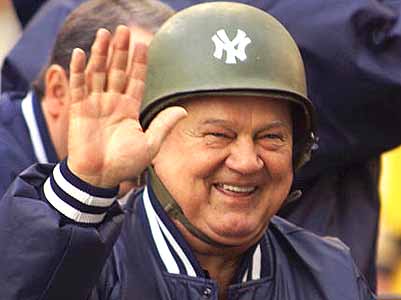 If you're my age, then you don't remember Don Zimmer as anything more than the Yankees bench coach during the early-Joe Torre years and a current special advisor in the Rays front office. That's just the tip of the iceberg though, the man has lived a baseball lifetime.
Zim started his playing career with the Brooklyn Dodgers in 1954, but only after a pitch to the temple nearly killed him in the minors. He spent what amounts to 13 days in a coma in 1953 before recovering to earn a cup of coffee the next year. He spent six years with the Dodgers (four in Brooklyn, two in Los Angeles), two years with the Cubs, half a season with the Mets, half a season with a Reds, another half a season with the Dodgers, two and a half years with the Washington Senators, and one year in Japan. A .235/.290/.372 career hitter, Zimmer played in the 1961 All-Star Game and was primarily a utility player before retiring after the 1966 season. He won a World Series with the Dodgers in 1955 and was part of the 120-loss Mets in 1962.
Once his playing days were over, Zim joining the coaching ranks. He did his time in the minors, then joined the Expos as their third base coach in 1971. He served the same role with the Padres and Red Sox before become the manager in Boston in 1976. The Sox went 411-304 during Zim's 4+ years at the helm, which included their infamous 1978 collapse. He managed the Rangers in 1981 and 1982, did some coaching for the Yankees and Giants from 1983-1987, then managed the Cubs from 1988-1991. Zimmer coached with the expansion Rockies in the early-90's before joining Torre's staff in 1996. That is a lot of baseball.
Today is Zimmer's 81st birthday, and 2012 will be his 64th year in baseball. He's written two books and is the last former Brooklyn Dodger still working in baseball in some capacity. I'll remember him for the helmet you see above (after Chuck Knoblauch hit him with a foul ball) and for the Red Sox brawl during the 2003 ALCS, when Pedro Martinez threw him to the ground. That's just me though, there is no shortage of reasons to remember the guy.
* * *
Here's your open thread for this evening. All three hockey locals are in action tonight, but I sure hope you weren't planning on watching any of the games if you're a Time Warner customer (Update: The Rangers are on NBC Sports, formerly Versus. Hooray for that.). Still no MSG. Anyway, you folks know what to do, so have at it.