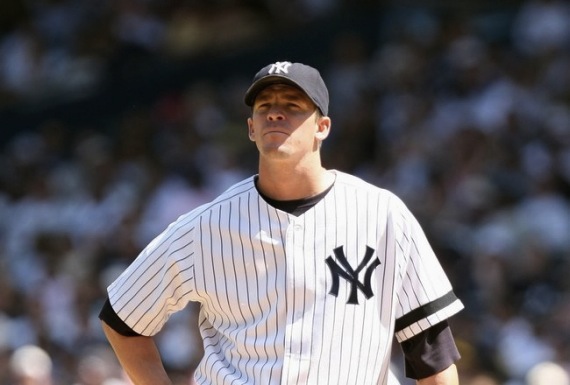 In a lot of ways, Scott Proctor personifies the Joe Torre era bullpens. He had a modicum of success in 2006 (3.96 FIP) but was overworked to the extreme, appearing in 83 games and throwing 102.1 relief innings. Unsurprisingly, his performance suffered in the next year (5.56 FIP) and he was traded to the Dodgers for Wilson Betemit at the deadline. Proctor, who battled alcoholism during his time in New York, then bounced from the Dodgers to the Marlins to Tommy John surgery to the Braves then back to the Yankees last year.
Proctor turns 35 today, and there's a pretty decent chance he's thrown his last Major League pitch. If so, his final act on a big league field will be giving up Evan Longoria's walk-off, wildcard clinching homerun in Game 162 to cement The Collapse. It was his 56th pitch of the game, as he was again laying it all out there and doing what the team asked. More important relievers were resting up for the playoffs and Proctor was disposable, so he bit the bullet and threw the most pitches he'd thrown in a single game since Sept. 16th, 2005. That was also part of the problem, Proctor never refused the ball and was always available. Honorable, yes, but chances are he cut his own career short.
* * *
Here is tonight's open thread. The Nets, Knicks, and Devils are playing tonight, but Time Warner customers won't be able to watch those last two teams because the Dolans pulled MSG due to a contract dispute. You folks can talk about whatever you like here, just be cool.