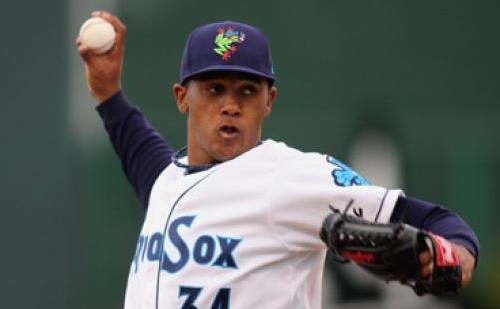 Jose Campos | RHP
Background
The cousin of former big leaguer Kelvim Escobar and current big leaguer Alcides Escobar, Campos grew up in the Venezuelan port town of La Guaira. The Cardinals tried to sign him in late-2008/early-2009, but his parents refused to sign the contract. When the Mariners stepped in and offered a slightly larger bonus — $115k — he joined Seattle in January of '09.
Pro Career
The Mariners assigned Campos to the Venezuelan Summer League in both 2009 and 2010, where he pitched to a 4.10 ERA with 82 strikeouts and 35 walks in 90 total innings. They brought him stateside in 2011, holding him back in Extended Spring Training before shuffling him off to their short season Northwest League affiliate. The 19-year-old Campos was the best right-handed pitcher in the circuit, posting a 2.32 ERA with 85 strikeouts (9.4 K/9 and 25.7 K%) and 13 walks (1.4 BB/9 and 3.9 BB%) in 81.1 IP across 14 starts. After the season, Baseball America ranked him as the third best prospect in the league.
The Yankees officially acquired Campos and Michael Pineda from the Mariners in exchange for Jesus Montero and Hector Noesi earlier this week.
Scouting Report
Listed at 6-foot-4 and 195 lbs., Campos is all about the fastball. He routinely sits 93-95 with life on the pitch and has run it up as high as 98 in the past. His breaking ball is still trying to decide if it wants to be a slider or a curveball, and a nascent changeup rounds out his repertoire. Both offspeed offerings have flashed swing-and-missability and have a chance to develop into above-average pitches down the road. Campos is an extreme strike thrower, filling up the zone with his fastball.
Like many of the prospects the Yankees have targeted in recent years, Campos has drawn praise for his makeup and poise. The Mariners tweaked his delivery just a bit in ExST last year, allowing him to get better extension and throw with his entire body, not just his arm. Here's some video.
2012 Outlook
After dominating a short season league last year, Campos will join what figures to be a prospect-heavy Low-A Charleston roster this coming season. He'll start the year at 19 and won't turn 20 until late-July.
My Take
I didn't even know Campos existed until the trade went down, and everything I know about the kid is in this post. He's obviously years away from the big leagues and far from perfect, but a 19-year-old with command of a heavy fastball is already a strong prospect. Add in a big projectable frame and the makings of two very good offspeed pitches, and you've got a special prospect. I'm interested to see him in full season ball next year, particularly in the second half when he gets up there in innings and we can get some decent reports on the breaking ball and change. Campos immediately became the Yankees' third best pitching prospect with the trade, ahead of the MLB-ready Triple-A guys because of upside.