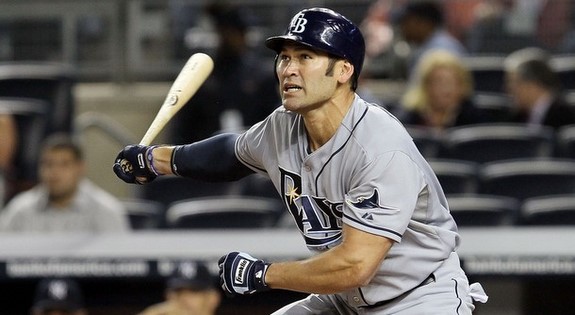 Everything's changed in the span of 72 hours. The Yankees went from being light on pitching and heavy on offense to having a surplus of starters and a DH vacancy following their Friday night bonanza. We know they have some interest in Carlos Pena, but he might be too expensive and also too inflexible for the current roster. A cheaper and possibly better fitting solution might be former Yankee Johnny Damon, who the team has already contacted.
Reunions almost never work out, especially when you're talking about a player closer to his 40th birthday than his 35th. The Yankees wouldn't be asking Damon to ignite their offense like they did during their World Series run three years ago, they'd be asking him to setting to a Tim Raines/Darryl Strawberry-esque complementary role. Let's see what he's bringing to the table these days…
The Pros
After a down power year with the Tigers in 2010 (just eight homers and a .130 ISO), Johnny clubbed 16 dingers with a .156 ISO last season. He was one two-bagger shy of the 30-double plateau for the third straight year and the 13th time in 15 years.
Although he always seemed to be battling nagging injuries during his first stint in pinstripes, Damon has played in at least 140 games every year since his rookie campaign in 1995. Durability is an underrated skill.
Johnny actually had a reverse split last year (.313 wOBA vs. RHP and .355 vs. LHP), but he's shown no split over the last three years (.345 vs. .344) and a very small one during his career (.353 vs. .341).
Damon stole 19 bases under the run happy Joe Maddon in 2011, his most since swiping 29 in 2008 and his 16th straight year with double-digit steals. He's also quite good at putting the ball in play, striking out in just 14.2% of his plate appearances last year and just 11.5% of the time in his career.
The importance is overstated, but there is some value in Damon being familiar with New York, the Yankees, and being in a pennant race. I hear he also gives some sweet veteran presents.
The Cons
At 38 years old, Damon is already in the danger zone when it comes to total collapse in performance. His wRC+ has gone from 128 in 2008 to 124 in 2009 to 109 in each of the last two seasons. Further decline is more likely than a rebound, which would put him at or below the league average offensively.
After walking in 10.7% of his plate appearances from 2006-2010, Damon's walk rate dipped to a below league average 7.9% in 2011. His 27.8% swing rate on pitches out of the zone was his highest in five years and the third straight year it's increased. Despite the solid strikeout rate, his 8.1% swing-and-miss rate was his worst since the data started being recorded in 2002.
Playing the field regularly is not an option anymore. Johnny has played just 352.1 innings in the outfield over the last two years, with 82.9% of his plate appearances coming as the DH. He can probably spot start in left once in while, but anything more is asking for trouble.
True Yankee™ status is a powerful thing, and it's been known to cloud judgment from time to time. Damon isn't the guy he was in 2009 (.376 wOBA with 24 homers) and he's not some kind of clutch god (.225 AVG and .287 wOBA with runners in scoring position last two years), and returning to the Yankees won't magically revitalize him. Sure, Yankee Stadium will probably allow him to pop a few more homers, but at his age he's more likely to keep slipping. Then again, stranger things have happened.
If the Yankees want to go real cheap on their DH spot next year, Damon's probably the best they'll be able to do on the free agent market. He's a useful piece but no longer a difference maker capable of wreaking havoc atop the order, but he'll stay in the lineup and put together tough at-bats, maybe even hitting the ball out of the park on occasion. An Andruw Jones-esque contract is probably in order, meaning just $2M with some incentives. Anything more than would be pushing it, especially since no other club is in a rush to sign him.