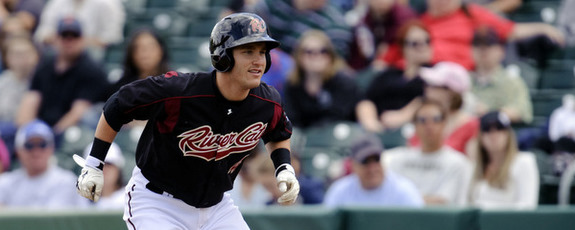 Aside from a designated hitter and an Eric Chavez replacement, the Yankees don't have much left to address this offseason. Pursuing depth is a year-round thing though, and a player who could potentially upgrade the 40-man roster hit the market on Thursday, when the Athletics designated Adrian Cardenas for assignment to make way for Jonny Gomes. A former supplemental first round pick (37th overall in 2006), Oakland acquired him from the Phillies as part of the Joe Blanton trade a few years ago.
There's nothing flashy about Cardenas, but Baseball America did rank him as the team's 12th best prospect in their 2012 Prospect Handbook (that was before the Gio Gonzalez trade, however). As a middle infielder, all he has to do to represent an upgrade for the Yankees is be better than Ramiro Pena. That's not exactly a high standard. Let's break his game down…
The Pros
Offensively, Baseball America says he "makes consistent hard contact" and "has an innate understanding of how pitchers are trying to attack him … Cardenas has a fluid, effortless swing, and sprays the ball all over the field."
The stats back up the scouting report. Cardenas has a career 12.6% strikeout rate (11.5% in Triple-A) and 9.3% walk rate (8.2% in Triple-A), both of which are above-average. He's a .303 hitter in the minors (.290 at Triple-A) with a .368 OBP (.349 at Triple-A).
A second baseman by trade, Cardenas also has plenty of experience at shortstop and third base. He also spent a fair amount of time in left field last season. Versatility is always a plus.
Since he was added to the 40-man roster after the 2010 season and spent all of last year in the minors, Cardenas has two minor league options remaining. He has never spent a day in the big leagues, so he has zero service time and is under team control for another six years.
The Cons
Cardenas as no power whatsoever. I'm talking a career .110 ISO in the minors and .097 in Triple-A. The five homers he hit in 2011 were his most since hitting five in 2008. His career high is nine dingers back in 2007.
He's also a poor base stealer, going just 27-for-48 (56.3%) in 392 games above Single-A. So offensively, the only thing you can count on Cardenas to do is put the ball in play and draw walks. I can't even guarantee he'll hit it out of the infield.
Unfortunately, all that defensive versatility just means Cardenas will be shaky at more than one position. Baseball America said his "speed, quickness, and range are all fringy," and his outfield routes "aren't perfect [but] he catches what he gets to and has an average arm." They project him as a "line drive hitting utility man."
A top 100 prospect as recently as 2009 (ranked 74th), Cardenas spent all of 2011 at Triple-A after splitting both 2009 and 2010 between Double and Triple-A. He seems to have gone backwards a bit since the trade, playing fewer and fewer games on the middle infield each season. A powerless corner infielder/outfielder without at least solid base stealing or defensive skills isn't exactly the most valuable player in the world, so it's not clear if he passes the "better than Ramiro" test. At least Pena is a very good defender at all infield positions, even if he can't hit a lick and only has one minor league option remaining
Cardenas is worth having in the organization because he has some prospect shine left and is an upgrade over the Reegie Corona and Doug Bernier types, but I don't think he's a guy worth carrying on the 40-man roster if it can be avoided. That makes him a candidate for my favorite underutilized trick, the ol' waiver claim-then-DFA. The idea is that you claim the player to get him in the organization, then immediately remove him from the 40-man roster. Since the Yankees have such a low waiver priority, any player they claim will likely go untouched the second time through waivers. That make sense? Cardenas could be useful but he's not as good as I thought he was coming into this post.