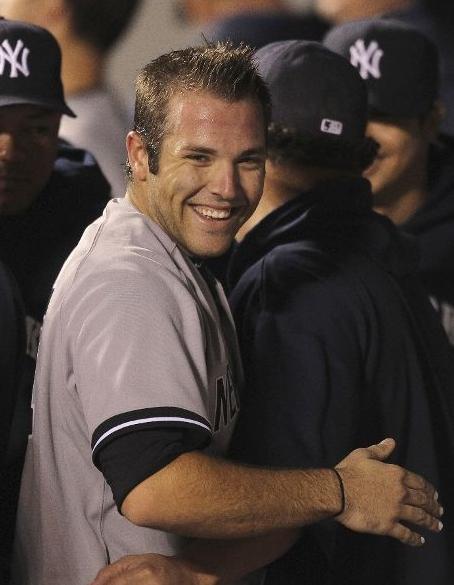 Now more than ever, clubs are using their Triple-A affiliate as an extension of the big league roster. The Yankees are no different, so you'll see some spare parts filling out the Triple-A Scranton roster around the actual prospects his summer. There will be an extra outfielder and infielder, as well as a horde of spare arms. I don't mean the kind of arms with long-term potential, I mean the disposable kind that can come up, get thrown to the wolves for a few days, then be cast aside and released. The Buddy Carlyle, Brett Tomko, and Amaury Sanit types. Those guys serve a purpose, albeit a small one.
The core of this year's Triple-A team will be a deep pitching staff, particularly the starters. If everyone makes it through Spring Training healthy and the Yankees don't need any of their young guys on the Opening Day roster, they'll have to figure out how to squeeze six starters into five Triple-A rotation spots. The bullpen figures to boast a few power arms and a few savvy veterans, some of whom we'll surely see at some point this coming summer.
Since we've sufficiently analyzed the big league roster to death, let's take a second to look at what the Triple-A roster might look like when the season begins. Remember, it's only a 24-man roster down in Triple-A, so there's one less spot to play around with. Considering how infrequently the 25th man plays in the bigs, it's not necessarily a bad thing.
Position Players (12)
Everyday Lineup: C Austin Romine, 1B Jorge Vazquez, 2B Corban Joseph, SS Ramiro Pena, 3B Brandon Laird, OF Colin Curtis, OF Dewayne Wise, OF Cole Garner
Bench: C Gus Molina, IF Kevin Russo, OF Dan Brewer, UTIL Jayson Nix
The DH will rotate in all likelihood, allowing Russo, Brewer and Nix to get semi-regular at-bats. Laird figures to see the majority of his time at third base, but he'll also play some first base and left field. Curtis and Garner will see time in all three outfield spots, as will Brewer off the bench. JoVa will get the occasional start at third. It's all about developing and maintaining versatility for these guys.
Speaking of Vazquez, there have been unconfirmed rumors that he may flee for Japan (where he'd make considerably more money), which would open the door for someone like Bradley Suttle or Cody Johnson to get their first taste of life above Double-A. A minor league free agent could also be an option for that spot, perhaps someone like Dan Johnson or even Nick Johnson. That would be kinda neat.
The two wildcards here are Justin Maxwell and Chris Dickerson, both of whom are out of minor league options and will need to clear waivers to be sent down at any point next season. If one of those guys manages to make it through waivers and starts the season in Triple-A, it'll likely push Brewer back to Double-A. It would shock me if both clear, but in that case the Yankees would probably just release Wise and send Brewer back to Tripe-A.
Reegie Corona is still in the organization after finally being taken off the 40-man roster a few months ago, and he's a prime phantom DL candidate. That means he'll remain with the team but not be on the active roster, instead stashed away on the DL with a fake injury and ready to be activated whenever someone else actually does get hurt. Doug Bernier could be destined for the same fate as well.
Pitching Staff (12)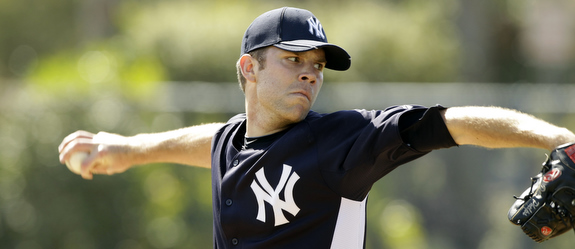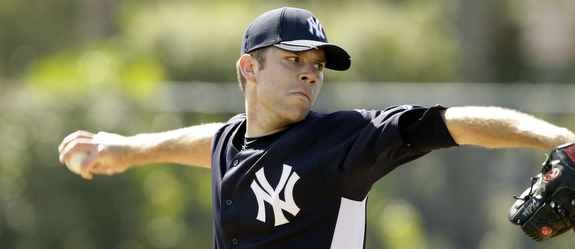 Rotation: Hector Noesi, Manny Banuelos, Dellin Betances, David Phelps, Adam Warren
Bullpen: D.J. Mitchell, George Kontos, Mike O'Connor, Matt Daley, Kevin Whelan, Adam Miller, ???
I'm working under the assumption that none of these guys will be needed in the big league rotation when the regular season begins, so everyone will get jammed in Triple-A. That creates a bit of a logjam because we've got six starters for five spots. Brian Cashman indicated during the Winter Meetings that Noesi will start somewhere (either in Triple-A or the bigs) in 2012, and they're very unlikely to bump either Banuelos or Betances into the bullpen or back to Double-A. That leaves two spots for Phelps, Warren, and Mitchell.
As part of last week's Yankees Top Ten Prospects Chat (subs. req'd), Baseball America's John Manuel said Mitchell is "still viewed as more of a reliever long-term inside the organization," mentioning him as a candidate for a "Ramiro Mendoza kind of swing role." I called him a relief candidate back before the 2010 season, so it's probably not a terrible time to make the conversion given that he has a full year of Triple-A starting under his belt. He can still work multiple innings out of the bullpen, and whenever one of the starters gets inevitably called up, he can step right into the rotation. Assuming he isn't the one called up, of course.
Kontos and Whelan are the veterans in the bullpen, at least in the sense that they were with the team last year. The latter figures to again serve as closer. O'Connor and Daley are on minor league contracts and are ticketed for Triple-A, as is Miller barring an absolutely dominant camp and a surprise spot on the big league team's Opening Day roster. I'm fairly certain that he'll get some regular innings in the minors before being considered for a big league spot later on during the summer, assuming he pitches well enough to deserve the look.
That ??? bullpen spot is very much up for grabs. It could go to Ryan Pope, who started last year at this level, or possibly even Pat Venditte. Craig Heyer and Cory Arbiso are also possibilities. Hideki Okajima is on a minor league deal, but at the moment I expect him to make the Yankees roster to open the season. There's always the minor league free agent pool, as the Yankees could bring back someone like Josh Schmidt or Eric Wordkemper, or go for some new blood instead. There is no shortage of arms still available on the open market (RHP, LHP).
Update: Cesar Cabral is also a Triple-A relief option, albeit in a roundabout way. Since he's a Rule 5 Draft pick for the second time, he can elect free agency rather than be returned to his original team (the Red Sox) if the Yankees don't want him. In that case, they can simply re-sign him and send him down. The Diamondbacks did the exact same thing with former Yankees farmhand Zach Kroenke.
* * *
The neat thing about Triple-A baseball is that even if the Opening Day roster ends up looking like it does in this post, it won't matter a month into the season. There will be injuries, promotions, demotions, veterans opting out of contracts, you name it. The roster turnover at this level is insane, upwards of 70 transactions a year. It's not enough to be 25 men deep these days, the Yankees need this depth tucked away in Triple-A to serve as viable replacements for those "just in case" moments.