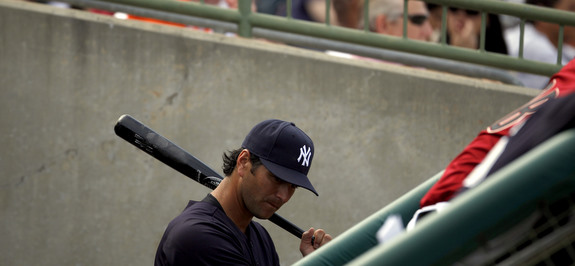 In the mid 2000s the Yankees had a penchant for building weak benches. Players such as Matt Lawton, Bubba Crosby, Mark Bellhorn, Miguel Cairo, Craig Wilson, Nick Green, and Wil Nieves routinely sat near Joe Torre during those years. It wasn't exactly a fatal flaw; the Yankees did manage to make the playoffs basically every year in that span, and it's not as though the bench makes a huge difference in the postseason when a team has nine clearly superior starters. It wasn't until 2009 that the Yankees actually managed to assemble some talent to back up their starters.
While the 2009 bench, highlighted by Erik Hinske and Jerry Hairston, was built through mid-season trades, the 2011 bench, perhaps the Yankees' strongest in a decade, came fresh out of the box on Opening Day. In a way the Yankees got lucky there. The circumstances happened to line up. They needed a right-handed fourth outfielder, since two of their three starters were lefties and the other was a switch-hitter. A left-handed infielder came in handy, too, because most of his work came spelling the right-handed Alex Rodriguez and the switch-hitting Mark Teixeira. It was mere chance that a solid-hitting right-handed outfielder, Andruw Jones, and a reclamation project infielder, Eric Chavez, happen to be not only available, but willing to take on a reduced role.
For the most part, the bench moves worked out. After struggling in the first half, Jones came back with a huge second half performance. Chavez did miss considerable time with a foot injury — worse, because it overlapped with Alex Rodriguez's knee surgery — but he still managed to hit .263/.320/.356 when healthy. Considering the playing time available and the playing time they actually got, Jones and Chavez were two of the better bench players in the entire league last year.
It's tough to mete out actual bench players. We can look at plate appearances, but there are so many variables that we can't control for. Some bench players turn into starters when the player they back up gets hurt. Some players begin the season as a starter only to lose the job. There are also mid-season call-ups who are actually starters, but end up with a number of plate appearances similar to a bench player. And, of course, some bench players do get hurt, and others are so bad that they're replaced — in which case neither of a team's backups might fit into a plate appearance range. This is a long way of saying that it's tough to place Chavez and Jones among their peers.
Keeping the above caveats in mind, Chavez fared very well compared to other infielders who got between 100 and 250 plate appearances in 2011. His .320 OBP in 175 PA ranked seventh in that group, all but a couple of the players ahead of him were injured starters (Casey Blake) or late call-ups (Brett Lawrie, Jason Kipnis, Dee Gordon). Using the same parameters for outfielders, Jones fares even better. His OBP ranked third among that group, and his SLG ranked second (by 25 points to a guy whose BA was 80 points higher). You can sort it out any way you want, but when you look at non-starters and compare them to Jones and Chavez, they come out looking great.
This is actually a remarkable feat for the Yankees, especially considering these players came from the free agent market. After all, who wants to sit on the bench while Derek Jeter, Alex Rodriguez, and Robinson Cano play every day? Perhaps Jones made sense, because he could play platoon caddy to Brett Gardner and Curtis Granderson. But before that the Yankees have had pretty solidly set outfields, which hurt the market for free agent backups. Remember, before the 2009 season both Hinske and Hairston signed elsewhere. It took a trade to get them in pinstripes, and even then it lasted just half a season.
The Yankees failure to sign Hiroyuki Nakajima now re-opens the door for Chavez, and the Yankees would do well to bring him back. He's not ideal in many ways, particularly his penchant to land on the DL every year, but seeking out bench players is essentially choosing which ones have the most manageable flaws. If Chavez can avoid hurting his foot while running the bases, he could be one of the more productive infield options, both offensively and defensively. It's hard to see any options on the free agent market, or any worth their price in a trade, who has the potential to add as much as Chavez.
(And that's most certainly a commentary on the quality of bench players and not on Chavez himself.)
If the two sides don't work out a deal, it won't threaten the season. The Yankees will simply roll with Eduardo Nunez as their all-purpose infielder and perhaps carry another lefty, say Chris Dickerson, on the bench. But given their current options and needs, Chavez seems a nice fit. He's not going to hit like a starter, but of course, few if any bench players do. He can, however, provide production superior to his direct peers. That's really what matters in this situation. While there's plenty of risk involved, he is once again a nice fit for the Yankees.