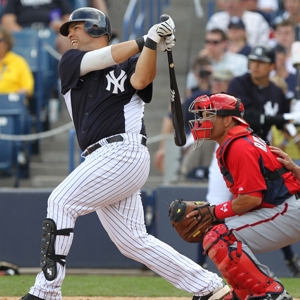 With the rotation questions answered (pending physicals), the attention has shifted to the Yankees' now vacant DH position. It didn't take the team long to get in touch with Johnny Damon, Carlos Pena, and Hideki Matsui, but with limited room in the budget they might look for an even cheaper solution. Buster Olney, Bryan Hoch, and Andy Martino each reported over the weekend that the Yankees consider Triple-A masher Jorge Vazquez a potential DH option heading into the season.
As Marc Carig recently explained, the Yankees found Vazquez when Michael Fishman, their in-house stats guru, got a whiff of his impressive stats in the Mexican League. From 2005-2008, the man they call Chato — Spanish for "short and chunky," according to Carig — hit .352/.405/.698 with an average of 25 homers per year in a league where the season is less than 110 games long. Lee Sigman is the team's top scout in Mexico, and he swooped in to sign Vazquez after he popped up on the team's radar.
Unsurprisingly, Vazquez has done nothing but mash during his two and a half years in the organization. He owns a .284/.327/.555 batting line with 63 homers in 261 games between Double and Triple-A, and he goes back to Mexico for winter ball every year and does more of the same. This winter he put up a .330/.397/.618 line with 18 homers in 56 games. In 174 games between the regular season and winter ball, he hit 50 balls out of the park.
"He can hit homers everywhere," said Ramiro Pena to Carig after playing with Vazquez for a number of years in Mexico. "Everybody down there in Mexico knows Chato … Tremendous power. He makes it look so easy."
Yankees fans caught a glimpse of Vazquez last Spring Training, when he hit .412/.444/.765 with three homers in 35 plate appearances, including this mammoth blast over the batter's eye in dead center. He few months prior to that he was named MVP of the Caribbean Series.
"He's a major-league bat," said Brian Cashman to Carig. "But he's blocked more than anything else."
Being blocked is just a small problem because Vazquez is a true DH without any defensive value, and now that job is wide open. He can stand at first base and receive throws from other infielders as well as fake third base in the way Eric Hinske can, but that's about the extent of his defensive skills. Playing him in the field is a non-option for a contending team. But like I said, that's just a small problem. There's a much bigger one.
As great as Chato's minor league and winter ball performance has been, and he has really been superb, his plate discipline numbers are a major cause for concern. In his 1,096 plate appearances since signing with the Yankees, Vazquez has struck out 314 times and unintentionally walked just 47 times. That's a 28.6% strikeout rate and a 4.3% walk rate. The only big leaguer with a 25%+ strikeout rate and a sub-5% walk rate in single season over the last three years was Miguel Olivo (27.6 K% and 3.6 BB%) in 2011, who has the advantage of being a pretty good defensive catcher. JoVa put up those rates in the minors as a defensively challenged first baseman approaching his 30th birthday (he'll be 30 in March).
The strikeout and walk rates indicate some kind of problem, but we don't know exactly what it is from here. It could be breaking balls, inside fastballs, first pitch changeups, who knows. Whatever the problem is, it's resulted in extreme strikeout issues and plate indiscipline. For what it's worth, ZiPS projects a .235/.275/.449 batting line with 23 homers, 20 walks, and 138 strikeouts given 400+ at-bats next season while CAIRO v0.2 pegs him for a .231/.281/.439 line with 28 homers, 33 walks, and 177 strikeouts in 500+ at-bats. Remember, projections are not predictions, just a reasonable estimate of talent level.
In a recent ESPN Insider-only piece, Kevin Goldstein looked at the concept of Quad-A players like Vazquez, the guys that are too good for Triple-A but not good enough for MLB. He notes that one of the main reasons why these guys are limited is because of an inability to make adjustments, especially when advanced scouts start picking the guy's game apart. Some players shed the label like Nelson Cruz did, but most aren't so lucky. Vazquez has very real power, but given that his strikeout rate has gotten worse every year since signing with the Yankees, we have reason to believe he can't make those necessary adjustments and contribute to the big league team.
Barring something unexpected, we'll see Chato in Spring Training one way or another. He might be a replacement in the second half of games like last year, or he might be competing for the team's DH job. Hey, maybe there's value in having a guy who will sabotage a first pitch fastball hidden in a lineup of patient hitters, but I have a hard time buying that argument. Vazquez has significant flaws both at the plate and in the field, and on top of that he's not a great fit as a right-handed hitter, assuming they're looking for someone to split time with Andruw Jones. There's always a chance something will click and JoVa will figure it out, but I'm not counting on it and neither should the Yankees.