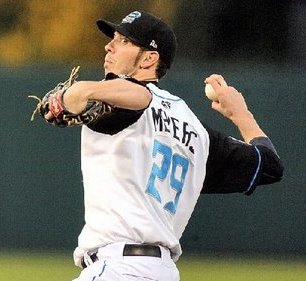 Although just about all of the focus has been on the starting rotation this offseason, the Yankees still have a few spots in their bullpen to address. Five of the seven relief spots belong to Mariano Rivera, David Robertson, Rafael Soriano, Boone Logan, and Cory Wade, but the last two spots are undecided. Unlike a number two starter, the Yankees have viable internal solutions for the sixth and seventh reliever.
One of those last two spots figures to go to a long man, someone capable of going the distance in extra innings or when the starter exits the game early. The Yankees have a small army of young pitchers capable of filling that role, including Adam Warren, David Phelps, Brad Meyers, and D.J. Mitchell. Hector Noesi did the job at times last year, but Brian Cashman ruled him out for it next year.
"I have no intention of Noesi doing that again," said the GM at the Winter Meetings. "I just think Noesi is a starter, so one way or another, that's where he needs to be. I don't want to waste his time as a long man if we can avoid it."
As a Rule 5 Draft pick, Meyers can't be sent to the minors without first being offered back to his original team, the Nationals. He's cut from a similar cloth as Phelps, Warren, and Mitchell, but the Rule 5 stuff doesn't necessarily give him a leg up on the competition. It could serve as a tiebreaker though. George Kontos worked 2+ innings in 25 of his 40 relief appearances for Triple-A Scranton last year, but he's considered more of a one-inning reliever long-term. Same with Kevin Whelan, though he's a candidate to be taken off the 40-man roster.
The other unclaimed bullpen spot is a bit of a wildcard. The Yankees have made it no secret that they'd like a second left-hander for matchup situations, and you can be sure the trio of Hideki Okajima, Mike O'Connor, and Cesar Cabral will get a chance to compete for that spot. The first two are signed to minor league deals, but Cabral is another Rule 5 Draft pick. Since it's his second time going through that process, he doesn't have to be offered back to his original team (the Red Sox) to go to the minors, but he will have the option of electing free agency first. Since Logan is effective enough against righties, a true lefty specialist wouldn't completely ruin any flexibility.
Last year we saw Luis Ayala basically come out of nowhere to sign a minor league deal and win the last bullpen job in Spring Training, which could easily happen again. Ayala himself is still unsigned, but I'm sure he's looking for a big league contract after having a solid year. Matt Daley and the intriguing Adam Miller are signed to minor league deals, and someone like the still unsigned Michael Wuertz or Juan Cruz could fit the bill at the right price. MLBTR has a partial list of unsigned right-handed relievers (min. 20 IP in MLB in 2011) while Baseball America has all the minor leaguers. Peruse as your leisure. Maybe one of those guys pulls an Ayala and surprisingly makes the club.
As of today, a month and a half before Spring Training starts and three months before Opening Day, I'm guessing those last two bullpen spots will go to Meyers and Okajima. Meyers allows Warren, Phelps, and Mitchell to work as starters in the minors, where they'll be waiting for the inevitable call-up. Okajima brings some serious veteran presents as a second lefty, and he's also easily disposable. Ultimately, one of those spots will go to Joba Chamberlain once he's healthy, and the other will be a revolving door with new bodies being shuffled in an out as needed.