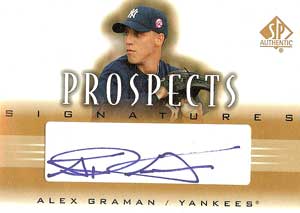 Prospect lists are all over the interweb this time of year, and tomorrow my annual Top 30 Prospects List will go live. The Yankees have a solid and particularly deep farm system, so naturally a few players didn't make the cut even though they're each worth knowing about. Rather than leave them on the cutting room floor for next year (or never), we'll look at them here in what has become my annual Not Top 30 Prospects List.
These aren't prospects 31 through 35. They're five guys on the outside of this year's Top 30 who I think have a chance to climb into next year's Top 30 with strong seasons, both developmentally and performance-wise. Two of last year's Not Top 30 Prospects jumped into the Top 30 this year — Angelo Gumbs and Chase Whitley — and I think a 40% success rate is pretty good for this kind of stuff. Scottie Allen had a disaster season — an 82 runs and 179 baserunners in 93.1 IP kind of disaster season — while Dan Burawa was merely okay, so they're still on the outside of the Top 30 looking in. The other guy, Rafael DePaula, technically isn't even in the organization yet because he still hasn't secured a visa. Maybe I should just put him in the Not Top 30 every year until he makes it stateside.
The five players are listed alphabetically by last name, so don't bother reading anything into the order. The ages listed are as of April 1st, approximately Opening Day.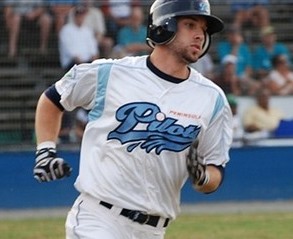 Jake Cave, OF, 19
A legitimate prospect on the mound, the Yankees drafted Cave as an outfielder last year and that's where he has the greatest long-term potential. His $800k signing bonus as the team's sixth round pick was the second largest bonus the Yankees gave to a drafted player in 2011, and he went on to be named the top prospect in Coastal Plains League last summer despite playing with a bunch of college kids. Cave is an excellent athlete that runs well, enough that he could stick in center field for the time being. His arm is obviously above average, so he'd fit perfectly in right field down the line. The Virginia kid has quick hands but a long left-handed swing that produces better than average power. He needs to improve his pitch recognition and overall discipline to carry that power over from batting practice into games. There's a lot of potential here, but also a lot of progress that needs to be made. Cave will start next year in Extended Spring Training and find himself in one of the short season leagues come June.
Jordan Cote, RHSP, 19
The Yankees' third round pick in 2011 and the recipient of a $725k bonus, Cote signed too late to get into any games last summer. The New Hampshire native is the classic "close your eyes and dream" type of pitching prospect. He checks in at 6-foot-5 and 205 lbs., and can already hit 92 with his fastball. Neither his curveball or slider have really distinguished themselves yet, but he's shown the ability to make the ball spin. His changeup is in the very early stages of its development. The Yankees have Cote on a strict throwing and conditioning program, and he spent the winter working out at Cressey Performance in Massachusetts. His arm speed is top notch but his delivery is very inconsistent, so he'll have to put in a lot of work to iron out his mechanics. If he adds some muscle and streamlines his delivery, there's scary upside here. Cote will start the season in Extended Spring Training before joining the rookie level Gulf Coast League Yankees.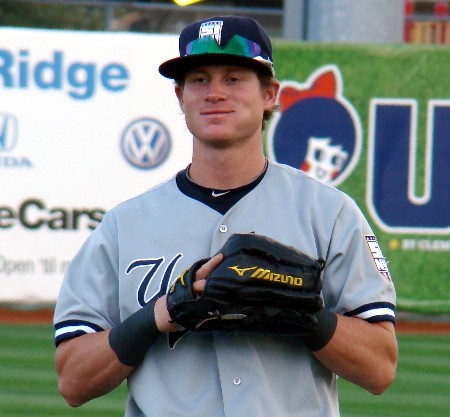 Ben Gamel, OF, 19
The younger brother of long-time Brewers farmhand Mat Gamel, Ben broke a strong commitment to Florida State to sign with the Yankees for $500k as their tenth rounder in 2010. He hit in the middle of the lineup for Short Season Staten Island's league championship team last season, producing a .380 wOBA with a 10.9% walk rate and seven steals. Like his brother, Gamel's bat is going to have to carry him because none of his other tools stand out. He has a smooth left-handed swing with present pull power and the potential for a lot more, plus he has a solid understanding of the strike zone. Chances are he'll be relegated to left field long-term because he doesn't run or throw well, so like I said, the bat's going to have to carry him. Gamel will be part of the prospect-laden Low-A Charleston club this summer.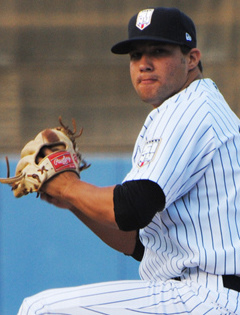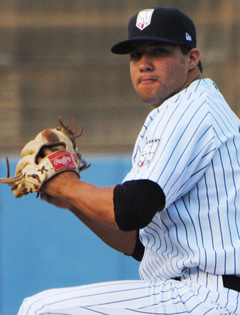 Tommy Kahnle, RHRP, 22
I might be cheating here, because Kahnle was in the back end of last year's top 30. I guess I just wanted to let everyone know that he's still a prospect, just that some others moved ahead of him. Anyway, Kahnle finished last season with the fifth most strikeouts in the organization (112) despite being a reliever and throwing the 27th most innings (81). Unfortunately, he also finished seventh in walks (49). The Yankees' fifth round pick in 2010 is a pure power reliever, living at 92-94 with a few 96s. His changeup is his second best offering, and he also throws a slider. Kahnle's biggest problem has been his ongoing struggle with control, though he only walked six batters in his final ten appearances and 21 IP last year. He'll move up to High-A Tampa after spending all of last season with Low-A Charleston, and if he shows that his improved control down the stretch wasn't a fluke, he could move up to Double-A Trenton very quickly.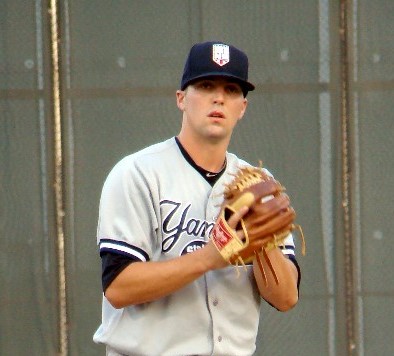 Matt Tracy, LHSP, 23
Primarily an outfielder at Ole Miss, the Yankees selected Tracy in the 24th round last year and stuck him on the mound full-time. He spent the summer pitching for Short Season Staten Island — first out of the bullpen and later as a starter — throwing six shutout innings in Game One of their first round playoff series and then again in the league championship clincher. All told, he struck out 48 (9.13 K/9 and 24.5 K%) and walked 16 (3.14 BB/9 and 8.2 BB%) in his 47.1 IP pro debut, allowing just one homer thanks to a 62% ground ball rate. The 6-foot-3, 212 lb. Tracy sits at 94-95 with his two-seamer in relief and 90-92 as a starter, backing up the heater with a downer curveball and solid changeup. His arm is fresh after throwing just 118.1 IP during his four years in school. Tracy has the repertoire to start but not the pitching experience to rocket up the ladder despite being a senior sign. He could start 2012 at Low-A Charleston and move up to High-A Tampa at midseason. There is no better sleeper in the system.