With Spring Training fully underway, it's time to begin our season preview. We're going to change things up a bit this year, focusing on various aspects of the team rather than individual players. You'll see most players in multiple posts, but the concepts will all be different.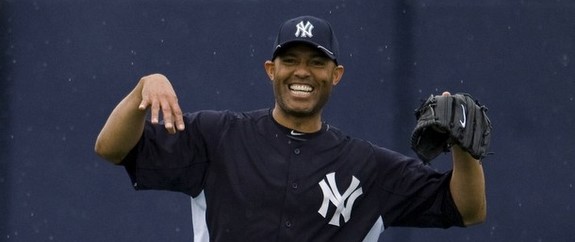 "The Yankees are old."
"Age will catch up to them."
"Too many old and declining players at key positions."
Those three statements and countless variations have been as much a part of Yankees Spring Training as batting practice and PFP and the Florida sun over the last half-decade or so. We've been waiting for the age problem to manifest itself in the standings for years now, but if you ask some media types and non-Yankees fans, this will surely be the year it happens. Maybe it will, who knows.
According to ESPN, the Yankees currently have the third oldest 40-man roster in the big leagues with an average age of 28.6 years. The Phillies (29.2) and Diamondbacks (28.7) are the only clubs ahead of them, and the next closest AL team is the Red Sox at 27.7. The Yankees have the oldest man on a 40-man roster protecting leads in the ninth inning, the oldest everyday shortstop, and the third oldest third baseman. Here's a look at the team's most veteran of veterans, with the listed ages being as of Opening Day, April 6th.
Derek Jeter, 37
The Cap'n is about to begin his 17th full season as the Yankees shortstop, which blows my mind because it still feels like his rookie year just happened. Jeter finished last season like a madman after missing close to a month with a calf injury, hitting .331/.384/.447 in 314 plate appearances after coming off the DL on Independence Day. It was the Jeter of old rather than old Jeter, the guy that hit .267/.336/.357 overall and .246/.309/.311 against righties in his previous 1,032 plate appearances dating back to the start of 2010. He cited a mechanical fix realized during his rehab as the cause, which helped him get the ball airborne rather than be an extreme ground ball hitter…
Jeter may have been able to fight off Father Time in the second half last year, but doing so again in 2012 will be a tough assignment. This will be his age 38 season, and only seven shortstops in baseball history have posting an OPS+ of at least 90 during a full season at that age (or older). Omar Vizquel (93 OPS+ in 2006) is the only player to do it in the last 40 years and one of only two players to do it in the last 60 years. Cal Ripken Jr. and Barry Larkin — two fellow Hall of Fame shortstops — were done as above average, everyday players by age 37. The Cap'n turned back the clock last season, but with two more guaranteed years and a player option left on his contract, the Yankees are hoping the mechanical fix wasn't just a mirage.
Alex Rodriguez, 36
The last four years have been quite literally painful for A-Rod. He's spent significant time on the DL with hip, calf, and knee problems during those four years, not to mention non-DL injuries like a sprained thumb and tendinitis in his surgically repaired hip. Alex hasn't played in 140 games since winning the MVP in 2007, and he failed to crack the 100-game plateau last season for the first time as a full-time player in his career. He says he plans to play more than 99 games in 2012 (of course he does), but his body may different ideas.
Staying on the field is one thing, but staying productive is another. A-Rod has gone from being a perennial .400+ wOBA guy to just a .360-.365 wOBA player over the last two seasons with a noticeable decline in his power production, bottoming out at a .185 ISO in 2011, his lowest as a full-time big leaguer. The recent history of third baseman in their age 36 season is way better than it is for 38-year-old shortstops, but that really doesn't mean much. No matter how great of shape he's been in, A-Rod's body has betrayed him over the last four years and it will be a surprise if he makes it through 2012 without injury.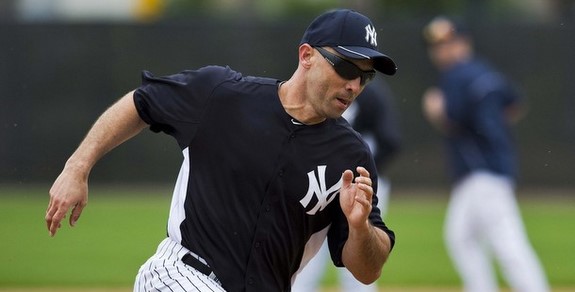 Raul Ibanez, 39
Brought in only because he was willing to take less money than Johnny Damon and various other DH-types, Ibanez is the classic hanging-on veteran giving it a go at DH in an effort to extend his career. His production has declined steadily in recent years, bottoming out at a .306 wOBA last year, his lowest as a full-time big leaguer. The Yankees are only going to use him against right-handers though (.267/.337/.448 vs. RHP last two years), which should boost his performance given his inability to hit southpaws (.244/.277/.391 vs. LHP last two years). Most 40-year-old DHs provide a negligible return simply because their skills have eroded to the point where not playing the field has little benefit.
Hiroki Kuroda, 37
The Yankees finally got their man this offseason, signing Kuroda to a one-year pact after trying to trade for him at each of the last two deadlines. Not only is the right-hander going to have to adjust to a smaller ballpark and tougher lineups than what he faced during the last four years with the Dodgers, he's also going to have to combat a 37-year-old body with nearly 2,400 career innings on his arm. Kuroda's ground ball rate declined in a big way last year (43.2% after 50.8% from 2008-2010), which is due in part to him throwing fewer sinkers than ever. With old battery-mate Russell Martin behind the plate, the Yankees are hoping those strong ground ball rates return because his walk rate has held constant while the strikeout rate has improved during his four years in the States, not declined.
Productive 37-year-old starters are not unheard of, and in fact the Yankees have had three pitchers at least that age post a better than average ERA in the last four years (Bartolo Colon, Andy Pettitte, and Mike Mussina).
Mariano Rivera, 42
Number 42 turned 42 back in November, and has already hinted at retirement early in Spring Training. Unlike the other four guys in this post, his performance hasn't wavered at all in recent years, and in fact you can argue that the last three or four years have been the best of his career. The cutter still cuts and Mo repeats his delivery like a robot, allowing him to the paint the black on both sides of the plate and induce weak contact like no other.
Rivera isn't just a great player, he's a historically great player like Jeter and A-Rod, but one that has shown none of the usual side effects of age. He'll have his one bad week in April and one bad week in August, prompting questions about whether the baseball grim reaper has finally come for the Sandman. This year will be no different, and despite his age, it's impossible to have anything but the utmost confidence in Mo at all times. He won't just stave off Father Time for another year, Mariano will strike him out looking while he bails out on an inside cutter.
* * *
The Yankees do have a number of older and declining big name players, but their importance to the team is generally overstated. Jeter and A-Rod are no longer leading the offense, that responsibility belongs to Robinson Cano, Curtis Granderson, and Mark Teixeira these days, none of whom are older than 31. Ibanez is as replaceable as it gets and the Yankees do have the depth in Triple-A to replace Kuroda, either internally or via trade. Rivera is still unparalleled in the ninth inning, but the club has a stable of quality relievers and the means to weather the storm. Age is a valid concern for a few members of the team, but it will take more than the decline of the five players above to sabotage the season.