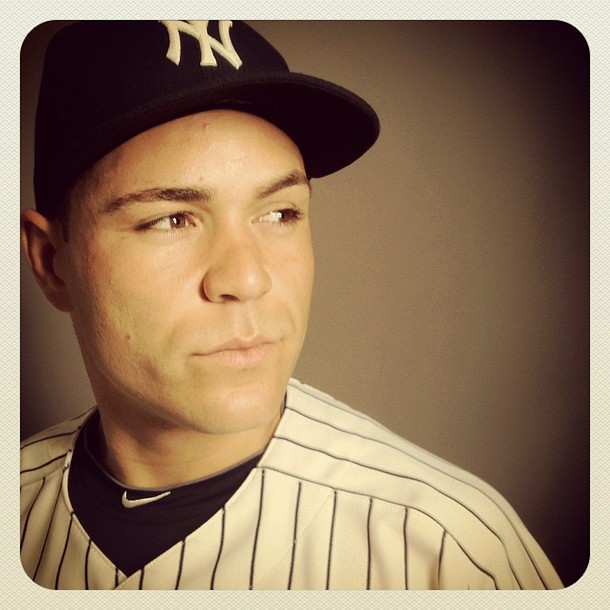 We've heard quite a bit about contract talks between the Yankees and Russell Martin over the last few weeks, though the two sides have mutually agreed to put negotiations on hold until after the season. Martin will earn $7.5M this summer before becoming eligible for free agency at the end of the season, which is something the team should try to avoid if they're serious about keeping him around for another few years. As the Cardinals are about the show the baseball world, quality catchers are not cheap.
Ken Rosenthal is reporting that the Cards and Yadier Molina — who is also scheduled to become a free agent after the season — are putting the finishing touches on a five-year extension worth $70-75M. Molina is an excellent catcher, one of the very best in the game, but is he $15M a year until he's 35 excellent? Remember, this is a guy that was below average offensively (82 wRC+ from '04-'10) even for a catcher (86 wRC+ league average) prior to his breakout last season (123 wRC+). That increased production could be real since he is in his prime years, and it's worth noting that he hit way more fly balls than ever before in 2011, explaining how he doubled his previous career high in homers. Molina's a fantastic defender, but Tony LaRussa also started him behind the plate 130+ times in each of the last four years. That's a lot of wear and tear.
Assuming Yadi's deal is finalized at the reported terms, the happiest people in baseball will be Martin, Mike Napoli, Miguel Montero, and their agents. The catcher salary bar has just been raised substantially, to the point where these guys could ask for $10-12M annually before they even hit the open market after the season. Given the dearth of quality catching around the league, the bidding could get to be outrageous in free agency.
"[Molina's] contract gives you something to point to now," said Martin's agent Matt Colleran to Joel Sherman. "They are two really good all-around catchers. For Russell, you couldn't point to Victor Martinez, who was more a catcher/DH and Napoli is kind of similar. … It could shape up as a unique situation. But all of that is speculation for the time being. Russell is a Yankee and he would like to stay a Yankee."
Martin isn't as good as Molina, Montero, or Napoli, but he's certainly better than average and is still a full year away from his 30th birthday. If he stays healthy and puts together another 100 wRC+ season or (gasp!) improves during his second season in New York, he'd be foolish not to see what free agency has to offer. That's bad news for the Yankees, because it will make it even harder to retain him.
I've been suggesting a three-year, $25-30M contract for Martin over the last few weeks, but that may have gone from "reasonable" to "best case scenario" for the Yankees thanks to Molina's deal. Luckily they do have solid internal options in Austin Romine and Frankie Cervelli if they do balk at Martin's price and let him go, but I have to think a contending team would prefer to have a (better than average) veteran catcher rather than roll the dice with kids behind the plate, especially with a generally young pitching staff. If the Yankees want to wait until after the season to restart negotiations, that's fine. But chances are a new contract with Martin is something they'll wish they would have worked out sooner come November.
[Photo via Nick Laham/Getty]