Just five questions this week, and the answers aren't even that long. So yeah, pretty straight-forward mailbag. Remember to use the Submit A Tip box in the sidebar to send us anything, including mailbag questions.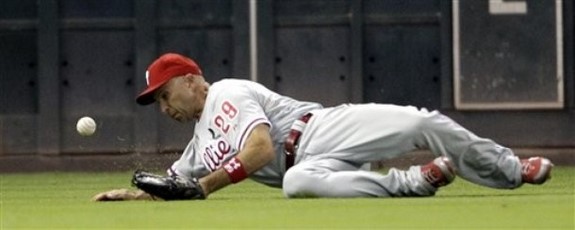 Dan asks: Let's say Raul Ibanez gives the Yankees a good reason to release him, thus giving Russell Branyan, Bill Hall, etc. a shot of making the team. What would the Yankees have to pay Ibanez?
Assuming it's a guaranteed big league contract, which is probably is, the Yankees would have to pay Ibanez the full $1.1M no matter when they cut him. If it's not a guaranteed deal, they could release him by March 19th and only pay him 30 days termination pay (~$191,860), or 45 days termination pay (~$287,790) if they release him between March 20th and Opening Day. If it's non-guaranteed and they released him after Opening Day, they're on the hook for the full $1.1M. Like I said, chances are it is a guaranteed contract (Eric Chavez's is) and they owe him everything regardless.
Arnold asks: Why do I get the feeling that the Yanks never intended to keep Jesus Montero? Supposedly, they were concerned about keeping the DH slot open for the senior citizens, but now that Montero's gone, they sign every octogenarian in sight (see Ibanez) to clog up the DH slot. Will the youngsters ever get a chance in this organization?
I can understand why you feel that way, but I don't necessarily agree with it. I do think the Yankees have been overly cautious promoting youngsters to the big leagues over the last two or three years after being overly aggressive in the past, almost like they're overcompensation by going from one extreme to the other. It's not like they gave Montero away though, the only time his name popped up in (legitimate) trade rumors was when there was a bonafide ace (Roy Halladay and Cliff Lee) or a young hurler with that kind of upside (Michael Pineda) on the table.
It's not easy integrating young players into the ultra-competitive AL East though, especially with this ham-fisted "win the World Series or the season is a failure" mentality embedded in the fanbase. Growing pains and are tough to stomach when you're trying to win the World Series.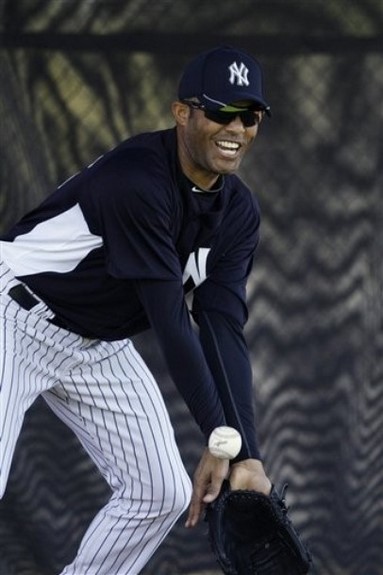 Daniel asks: If this is indeed Mariano Rivera's last season, next season the Yankees have Rafael Soriano, David Robertson, Joba Chamberlain, and now David Aardsma as well as various minor leaguers vying for the closer position. None of them are Rivera and no one ever will be, but as far as closer options go, the Yankees wont be in too bad a position will they?
No, I don't think so. Not only do they have plenty of quality in-house closer candidates, but they also have the means to go out and get an established closer (Ryan Madson? Joakim Soria?) if they want (I'd rather see them exhaust the in-house options first). Replacing Rivera's production will be hard but not impossible, at least in terms of save percentage and actually recording that 27th out for the wclosing out games for the win. No one will be as utterly dominant and flawless as Mo, of course.
The one thing no one will ever be able to replace is the sense of security Rivera provides. No matter how chaotic the situation or big the game, there is never a sense of unease when Mo's on the mound. I can't imagine anyone will ever make us feel that way again. I hope he doesn't retire after the season, but if he does, the team is well-prepared to replace him. It just won't be as pretty.
Alec asks: With recent news about Russell Martin's extension talks and Yadier Molina's talks of extension with the Cardinals, I hope neither signs so the options are open for the Yankees in 2013. I know you value Miguel Montero a bit better than Martin since he is a better hitter, but what do you think about Yadi? I prefer him over Martin, Montero, and Mike Napoli in the 2013 FA crew. Cash must think otherwise since he is trying to extend Martin. Your take?
I'd rank those four guys: Napoli (moderate gap) Montero (small gap) Molina (small gap) Martin. I do value catcher defense but I also don't think it's the most important thing in the world, so the two defense-first guys lag behind the big bats for me. Yadi would be an upgrade over Martin especially if he shows that last year's offensive spike (.349 wOBA) is a real thing during his peak years, but the big question is money. I have a feeling Molina's going to get huge bucks only because the Cardinals won't want to lose him after losing Albert Pujols.
Martin's not the best catcher in the league, but he's better than the average catcher offensively and is a strong defender. The Yankees also value makeup, and Russ does come across as a tough dude. I've thrown out that three-year, $25-30M deal for Martin with these rumors in recent weeks, and that's pretty much my limit. Joe Torre ran him into the ground earlier in his career and I worry that a big crash is coming in his early-30's. Ideally, Martin would mentor Austin Romine for a few years then hand over the reigns. Molina's a great catcher, but I think I'd rather have Martin at his price than Yadi at his, especially if the Cardinals get desperate.
Mike asks: Where would Rafael DePaula have ranked in your top 30 prospects if he had obtained his visa?
If he'd have gotten the visa this offseason, I probably would have had him in the 20-25 range somewhere, likely behind Nik Turley. If he'd gotten the visa last offseason and spent the entire 2011 season in the farm system throwing real innings, he probably would have ranked even higher barring injury, 11-15 possibly. The kid's got a fantastic arm, but he's losing a lot of precious development time.