Only four questions this week, but three are pretty long. As an added bonus, we've got a poll at the end as well. The Submit A Tip box in the sidebar is the best way to send us anything, mailbag questions or otherwise.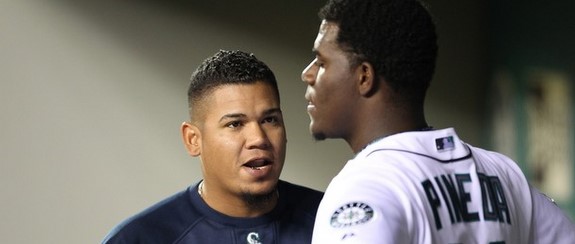 Daniel asks: True that Pineda had a poor second half, and it is assumed he'll build upon his performance last season. My question is how much will Pineda benefit from having a shutdown bullpen this season, even if he doesn't make strides forward? How much did his bullpen hurt him last season? How many of his baserunners were allowed to score by the Seattle bullpen?
The Yankees had one of the very best bullpens in the game last season, but the Mariners were pretty much middle of the pack in terms of ERA (3.61) and FIP (3.86). Their 6.34 K/9 and 16.6 K% were the second worst marks in the game though, and relievers who can strike guys out tend to do a better job of pitching out of jams than guys who rely on contact. The Yankees, on the other hand, were among the best in baseball at 8.46 K/9 and 22.2 K%.
Seattle's bullpen inherited eleven runners from Pineda last season, and they allowed eight (!) of them to score (72.7%). That's pretty nuts, the league average was 31.2% last year. The Yankees were at 24.9%. If only four of those eleven men came across (approximating the 31.2% league average), Pineda's ERA would have been 3.53 instead of 3.74. If only three of the eleven came around to score (approximating the 24.9% Yankees average), his ERA would have been 3.47. That assumes all those runs were earned, of course. Having a better bullpen should help, but I'd prefer it if Pineda avoided all those baserunners in the first place.
Patrick asks: When a player is signed to minor league contract with an invite to camp, and it's later described as non-guaranteed, what portion of the contract is non-guaranteed? Are they guaranteed a spot on a minor league team? Do players that don't make The Show typically accept such a role?
Non-guaranteed contracts also apply to players who sign one-year deals during their pre-arbitration and arbitration years (so Russell Martin's contract is not guaranteed this year, for example). For players on minor league contracts, the team doesn't have to pay them a thing until they add them to an actual roster (other than meal money), either majors or minors. These contracts all have some kind of opt-out clause allowing the player to elect free agency if they're not added to the big league roster by a set date. The new Collective Bargaining Agreement instituted a uniform June 1st opt-out date, but the two sides can agree to an alternative date. Bill Hall, for example, can opt out his contract with the Yankees on April 4th. He'd rather look for a big league job elsewhere than play in the minors for the Yankees, but that isn't true for all players. Some do go to the minors, like Dustin Moseley in 2010 or Cory Wade last year.
Guys on the 40-man roster with non-guaranteed contracts can be released in Spring Training without being paid their full salary. The club does need a valid baseball reason to release them though, the union isn't a fan of players being released for money saving purposes and they will fight it. This year clubs have until March 19th to release a player and only pay them 30 days termination pay, and after that (but before Opening Day) it's 45 days pay. If someone is on the 40-man roster as of Opening Day, they are entitled to their entire salary. The Yankees released Chad Gaudin in Spring Training two years ago, and only paid him $737k of his $2.95M salary (45 days worth). Guaranteed contracts, which are most free agent and multi-year deals, entitle the player to every cent unless he voluntarily retires or is released due to breach of contract (like Aaron Boone playing basketball).
Mike asks: I've followed the Yankee farm system for a long time, but have never followed another team's farm system in depth. I have noticed that while the 15-30+ range prospects might not posses the star power it seems the depth of the Yankee Farm is really quite impressive. Is this my bias or does Damon Oppenheimer have a gift at getting guys who might not be stars but have a great chance to develop into major league regulars? I see the Yankees producing lots of Brett Gardner types in the future.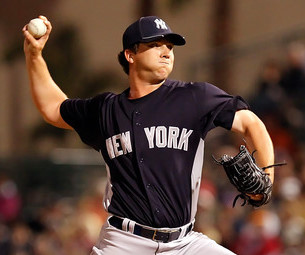 We all focus on top prospects, and we should because those guys are the cream of the crop and deserve the attention. The best way to compare farm systems is to look further down the prospect rankings though. Don't just compare the top three prospects, compare the #10 prospects, the #20 prospects, and the #30 prospects. Just as an example, Baseball America ranked Branden Pinder as the Yankees 30th best prospect in their Prospect Handbook, touting him as a power relief arm with a 93-94 mph fastball and a slider that's shown "flashes of becoming a plus pitch." The 30th best prospect in the White Sox's farm system (the worst in the game) is Duane Heath, who had a 4.73 ERA in Triple-A last season and "won't be trusted as more than a middle reliever." Big difference between Pinder and Heath, showing the difference in each team's prospect depth.
The Yankees still have some high-end star power in their farm system (though trading Jesus Montero took a big chunk of that away), but it's primarily built on depth. They've done a good job of turning mid-to-late round draft picks into potentially useful players, which is far above the usual rate-of-return on those selections. Phil Coke is a useful player but nothing special, though he's a star compared to most 26th round picks. David Robertson is 17th round gold. The Yankees have a lot of guys like that in the 12+ range of their farm system, including guys like David Phelps (14th), D.J. Mitchell (10th), Bryan Mitchell (16th), Brandon Laird (27th), Tyler Austin (13th), and Nik Turley (50th). The horde of power bullpen arms is just silly — Mark Montgomery (11th), Zach Nuding (37th), Graham Stoneburner (14th), Whitley (15th), Dan Burawa (12th), and Matt Tracy (43rd) among others — and it's all by design. I don't know if I'd call it a gift, but Oppenheimer & Co. have done a good job of maximizes those often forgotten late draft picks.
This doesn't include the international players either, and prior to the CBA changes the Yankees were routinely among the biggest spenders in Latin America on an annual basis. It's not all big seven-figure signings like Jesus Montero or Gary Sanchez, they've got a ton of quality prospects — like Ravel Santana ($150k), Claudio Custodio ($300k), Ramon Flores ($775k), and of course Robinson Cano ($150k) — on cheaper, six-figure payouts. They're not all stars, but the Yankees have been consistently producing useful pieces for their roster and to use as trade bait over the last few seasons.
Jeb asks: If you could trade a future of uncertain performance (what is currently is) from the team in return for guaranteed bounce back years from all aging players and career years from the remainder of the roster at the cost of having a guaranteed steep decline in performance from each player for the remainder of their contracts, would you?
So the question basically asks a) the best possible year in 2012 plus utter crap in the future, or b) the current situation (a.k.a. reality). I know which one I would pick, but let's do a poll. I'll answer in the comments later so I don't influence the poll results at all.