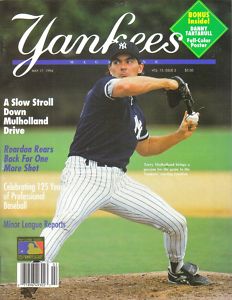 The Yankees got 66 starts out of Jimmy Key and Jim Abbott in 1993, and the other 96 starts out of ten different pitchers. Then-GM Gene Michael spent the '93-'94 offseason trying to shore up the starting rotation, but it wasn't until early-February that he was able to add an arm. On this date in 1994, the Yankees acquired left-hander Terry Mulholland (and minor leaguer Jeff Patterson) from the Phillies for reliever Bobby Munoz and two Double-A guys (Kevin Jordan and Ryan Karp).
Mulholland, 30 at the time, was coming off an All-Star season in Philadelphia that saw him pitch to a 3.25 ERA in 191 IP. He'd thrown at least 180 IP in each of the previous four seasons, and there was talk about a multi-year contract immediately after the trade since he was due to become a free agent after the season. The Yankees beat Mulholland in arbitration ($3.35M vs. $4.05M) but didn't sign him long-term. That turned out to be a very good decision.
In his first two starts, Mulholland allowed a dozen runs in just nine total innings. He allowed at least four runs in his nine first starts and in 12 of his first 13. By the All-Star break, he'd thrown 115 IP with a 6.65 ERA, a 1.57 WHIP, and a 1.8 HR/9. Batters were hitting .309/.358/.551 off him. Then-manager Buck Showalter moved him into the bullpen after the break, but five appearances later the season ended due to the strike. All told, the Yankees got 120.2 IP out of Mulholland, who posted a 6.49 ERA. None of three players they gave up toget him turned into anything great — Jordan was the bench of the bunch, spending seven years as a utility infielder — but the trade turned out to be a disaster.
* * *
Here is your open thread for the night. All three hockey locals are in action, and later on tonight you can catch Robinson Cano on The Tonight Show with Jay Leno (11:35pm ET on NBC). You folks know how these things go, so have at it.