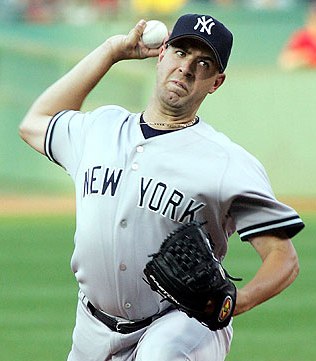 The 2005 Yankees were a run prevention disaster. They had what was arguably the worst defense in modern baseball history, and their starting rotation was such a wreck (thanks to the Jaret Wright, Carl Pavano, and Kevin Brown injuries) that Brian Cashman traded the overworked Paul Quantrill to the Padres for replacement level arms Tim Redding and Darrell May in early-June. They simply needed innings.
May, 33 at the time, started for the Yankees a week after the trade, giving up seven runs in 4.1 IP to the Indians. Redding, then just 27, started against the Red Sox in Fenway Park about a week after that. To say it went poorly would be an understatement. He faced eleven total batters and eight reached base, four on walks and two on extra base hits. The Sox had already scored three runs when they had the bases loaded with no outs in the second. May came in to replace Redding and allowed all three inherited runners to score, and then some. The duo combined to allow a dozen runs in 3.2 IP. They faced 28 total batters, and 17 of them reached base. The Yanks went on to lose 17-1. Here's the box score if you want to relive that nightmare.
Redding — who turns 34 today — was banished to the minor leagues after the game and never threw another pitch for the Yankees. May suffered the same fate, except he never pitching in the big leagues again. The pitching situation looked gloomy earlier this offseason, but it was never 2005 bad. The Yankees have a stable of viable young starters in Triple-A, meaning the emergency trades to fill rotation spots with the Reddings and Mays of the world are a thing of the past.
* * *
Here's tonight's open thread. None of the hockey or basketball locals are playing tonight, but I'm sure you'll find a way to entertain yourself. The Walking Dead comes back, and I guess I'll give it another chance after the stellar finale last year. Anyway, talk about whatever you like. Have at it.