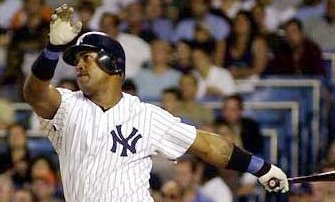 The Yankees enjoyed above average production from Paul O'Neill for the better part of a decade, but they had a bit of a hole in right field after his retirement following the 2001 season. They opened 2002 with Shane Spencer getting the majority of the playing time in right while John Vander Wal subbed in against the toughest of right-handers. New additions Jason Giambi and Robin Venture were expected to pick up most of the offensive slack.
Spencer, 29 at the time, was four years removed from his monster September showing in 1998, but he brought a .269/.324/.468 batting line in nearly 800 big league plate appearances into the season. He opened the year with a three-hit game on Opening Day, and finished the month of April with a .311/.403/.508 batting line. Vander Wal had reached base 16 times in his 43 plate appearances that month, a .372 OBP that was more than enough off the bench. He took at-bats away from Spencer in May, and by the end of the month he owned a .290/.369/.449 batting line. Spencer was hitting .256/.341/.388 following his May slump.
The duo didn't last another month. Vander Wal reached base six times in his next dozen games while Spencer was unable to string together any success. Juan Rivera came up for a few days and Marcus Thames made his big league debut that month, both getting a short-lived crack at the right field job. With Rondell White banged up and the outfield stretched thin, then-manager Joe Torre started utility infielder Enrique Wilson in right against the Mets on June 29th. The Yankees got blown out and Wilson made a fool of himself in the field, the only time in his professional career (majors or minors) he would play the outfield.
During the nationally televised broadcast of the Saturday afternoon game, announcer Tim McCarver proclaimed that the Yankees needed Raul Mondesi to play right field. Mondesi, 32 years old at the time, was a star earlier in his career but he hadn't aged well. He was hitting just .224/.301/.435 with the Blue Jays, and it was no secret that they were trying to unload him and his massive contract. George Steinbrenner didn't need to hear anything more than what McCarver said on television. Less than two days after Wilson's episode in right field, the Yankees acquired Mondesi from Toronto in exchange for non-prospect Scott Wiggins. They assumed the remaining $5.5M of his 2002 salary, and agreed to pay $7M of his $13M salary in 2003.
"Our outfield has been depleted, and when Joe (Torre) needs something, I'm going to do everything I can to get it for him," said Steinbrenner in a statement after the trade.
As Keith Law explained two years ago (6:00 mark), the deal was made above GM Brian Cashman's head. The Yankees team president called the Blue Jays team president and brokered the trade because The Boss thought McCarver had a good idea. Pretty nuts.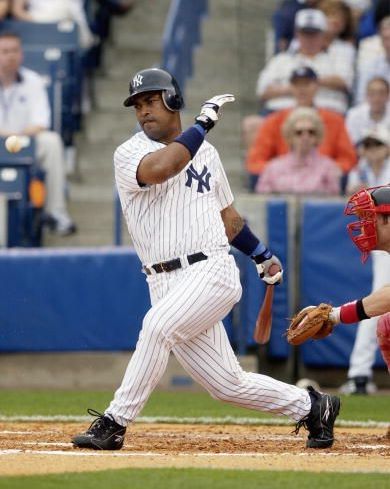 Mondesi stepped right in as the full-time right fielder following the deal, and the start of his Yankees career went pretty well. He reached base four times in his first game with the team and nine times in his first three games without a single strikeout. A little slump followed, but Mondesi produced fairly consistently from the middle of July through the end of the season. In 71 games after the trade, he hit .241/.315/.430 with eleven homers. He had three singles and three walks in the four-game ALDS loss to the Angels.
The outfield picture was shored up the following offseason with the addition of Hideki Matsui, who replaced White in left while Bernie Williams and Mondesi remained in center and right, respectively. Mondesi had a scorching hot April in 2003 — .347/.422/.683 with eight doubles and eight homers in 27 games — but his production gradually declined during the rest of the summer. The Yankees were stuck in a four-game losing streak and mired in a 3-11 skid on May 26th when Mondesi lollygagged on a fly ball that would have ended the inning but instead dunked in for a two-run single, allowing the Red Sox to blow open what turned into the Yankees fifth straight loss. An inning earlier he grounded into a double play with the bases loaded and one out with his team down by two, so the boo birds were out in full force.
With his batting line sitting at .258/.330/.471 in late-July, Mondesi was replaced by a pinch-hitter in the late innings of a game against the Red Sox. He showered and went home while the game was still being played, and a day later he missed the team's flight to the West Coast. The entire organization — Steinbrenner included — had grown tired of him, and those last two incidents were the straws that broke the camel's back. The Yankees shipped Mondesi and $2M to the Diamondbacks two days later, receiving outfielder David Dellucci, righty reliever Bret Prinz, and minor leaguer Jon-Mark Sprowl in return.
"To me, discipline is a big part of being a good team," said Torre after the trade. "And a lot of the discipline has to come from within yourself. I know he was frustrated. He's not a bad person, and I want to make sure everybody knows that. I just think he got emotional about it, and it's not good for the club … It's not acceptable what he did. Brian and I pulled the trigger on this one."
Mondesi played a little more than a full season with the Yankees, suiting up for 169 games in pinstripes. He hit .250/.323/.453 with 27 homers and 23 steals, but the team grew tired of his antics. They managed to find a buyer in Arizona, and shipped him off at the first opportunity. Wiggins managed to reach the bigs with the Blue Jays in 2002, giving up a run in 2.2 IP, his only big league time. Dellucci didn't do much in pinstripes (nine hits and four walks in 58 plate appearances), Sprowl never reached the show, and Prinz threw 30.1 ineffective innings (5.08 ERA) for the team from 2003-2004.
Believe it or not, Mondesi is currently the mayor of the San Cristobal province in the Dominican Republic, the largest municipality in the country. He played three more years after the Yankees traded him away, before geting into the politics game. The trade was a classic Steinbrenner impulse buy but it wasn't a total disaster, since Mondesi was basically league average at the plate and in the field during his time in New York. He was overpaid and kind of a jerk though, which ultimately punched his ticket out of town and is why we don't remember him all that fondly.